The launch of St Pancras Editions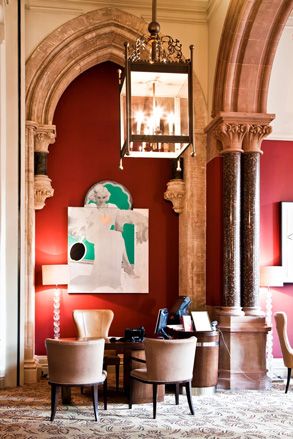 (Image credit: TBC)
While we sipped champagne at the Wallpaper* party during London Design Festival, it did not go amiss that the walls of the newly refurbished St Pancras Renaissance Hotel had become home to an impressive selection of art.
With pieces from well-known contemporary masters like Bridget Riley and Gary Hume, as well as emerging names such as Sunok Kang and Suzy Moxhay, it seemed natural that Harry Handelsman, art collector, property developer and the man behind the restoration has now moved into the business of limited-edition art prints. 'To go through all of that and then hang meaningless pieces on the walls of this incredible building would have been an insult,' says Handelsman.
A partnership with Thang Vo-Ta, who helped Handelsman compile the hotel's collection, St Pancras Editions will now sell limited edition silkscreen prints of the works. Poignantly, the first print on offer is 'Jean Harlow' painted in 1964 by pop artist Gerald Laing, who sadly died this week. The original work currently hangs in the Chambers Club of the hotel. Said the artist before his death: 'I find it particularly fitting that she should now hang so proudly in a building that also had is own adventure. With the creation of St Pancras Editions, everyone can own a little piece of that adventure and journey.'
The limited run of 200 prints are titled, signed, dated and numbered by Laing and have been silkcreen-printed by Artizan Editions in Hove.
ADDRESS
223-231 Old Marylebone Road, London NW1 5QT