All American: Stuart Davis' brand of modernism takes over New York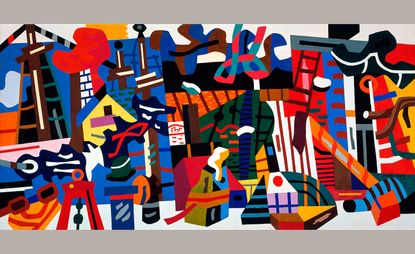 (Image credit: Stuart Davis Estate, Whitney Museum)
Abstract yet concrete. Geometric, but figurative. Stuart Davis was a painter who lived for the contradiction, and yet somehow found resolution in his mesmerising paintings, heralding him as an American original, a fine art force fueled by aesthetics and politics equally.

This week, the Whitney Museum of American Art opens a retrospective, in conjunction with the National Gallery of Art, titled 'Stuart Davis: In Full Swing,' that traces near 100 works from his early paintings in the 1920s to his depictions of consumer products until the 1960s, when his fusion of dynamism and vivid colours led him to neither embrace abstraction fully nor to abandon figuration completely.

It's fitting for the Whitney to reconsider this artist, whom not only was a personal friend and favourite of Gertrude Vanderbilt Whitney, but was also a founding member of the Whitney Studio Club and had his first solo exhibition at the institution in 1926. While he was a true-blood American, his sense of identity was not the idealised pastoral, but rather formed by the New York streets and Newark's hot jazz joints—modernity was pluralistic, a notion not shared by others in Davis' time.

As this retrospective shows, though Davis was in all the right places at all the right times, even rubbing elbows with those who went on to be anointed as 'establishment,' the most precious dialogue he created was with himself. Take Paris, for example, to which Davis arrived in 1928. While Davis' works from that period may look like cubist or surrealist extensions, they were anything but.

Throughout the exhibition, the show's curators, Barbara Haskell and Harry Cooper, consistently remind viewers of this phenomenon: old and new works are placed side-by-side to demonstrate how motifs or ideas from the 1920s remained powerful to Davis throughout his exuberant jazz period, and the 1950s and '60s. Underscoring Davis' practice was the notion that art played a social role, and thus throughout his oeuvre, he maintained a formal principle of using only 'shallow space,' so the canvas didn't deceive or seduce unjustly.

While he abstracted his famous eggbeaters (a recurring object in his still lifes), and animated words and jazz notes into geometric symbols, in many ways, Davis saw the future as bright, full-speed and inherently contained.
INFORMATION
'Stuart Davis: In Full Swing' opens on 11 June and runs until 25 September. For more details, please visit the museum's website (opens in new tab)

All images courtesy of the Stuart Davis Estate and the Whitney Museum
ADDRESS
Whitney Museum of American Art
99 Gansevoort Street
New York, New York
VIEW GOOGLE MAPS (opens in new tab)