Josef Albers and the modernist maestro's musical influences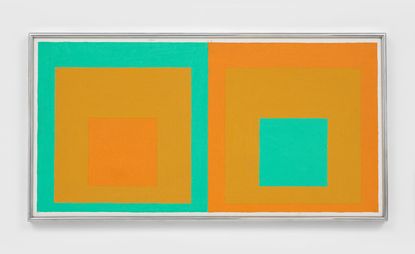 (Image credit: Courtesy of The Josef and Anni Albers Foundation and David Zwirner)
Painter, furniture designer, colour theorist, glassmaker, writer, educator: Josef Albers was a man for all seasons. More surprising still, he also had a knack for designing album covers. A new exhibition, 'Sonic Albers', opening at David Zwirner's 537 West 20th Street gallery sheds light on the artist's lesser-known relationship to music and sonic phenomena through paintings, drawings, glassworks and other ephemera from throughout his career.

Albers' foray into album art came late in his life at 71 years old, nearly a decade after he began his seminal Homage to the Square series. Command Records was established in 1959 by Enoch Light, a classically trained violinist, band leader and sound engineer with an exceptionally sophisticated approach to stereo recordings (his penchant for lengthy technical descriptions similarly resulted in the creation of the gatefold sleeve). He enlisted Charles E Murphy as design director, who in turn tasked his former Yale professor – none other than Albers – with a handful of the label's earliest jacket designs.
Fuge (Fugue), c 1926, by Josef Albers. © 2018 The Josef and Anni Albers Foundation / Artists Rights Society (ARS), New York.
Produced over three years between 1959 and 1961, Albers' seven album sleeves for Command Records incorporated elements such as circles and grids of dots, highly uncommon in his practice. (These have only ever featured in the sandblasted glass door panels he designed for the Todd Theater in Chicago, and a series of Christmas and Happy New Year cards he produced with his wife Anni Albers for personal use – the latter of which are also on view at the New York exhibition). Albers echoed the avant-garde musical compositions with synaesthetic designs evocative of the tempos the percussion instruments featured on the track.


RELATED STORY
Music had underscored Albers' work since his early days as an artist, from his expressionistic sketches of dancers and flute players in the 1910s to the rarely seen sandblasted glass pieces produced during his Bauhaus years in the 1920s and 1930s. His fascination with the rhythmic quality of lines and the interrelation between movement and the visual experience is palpable in works such as Klaviaturen (Keyboards) (1932) and his Treble Clef series (1932-1935). 'Nobody expects that a composer, before composing his work, is going into the woods to listen to a roaring lion or a barking dog, or something nicer, a singing nightingale or blue jay,' mused the artist in a 1935 paper on abstract art he presented at Asheville City Hall, North Carolina. 'Everybody thinks that it is all right that he composes out of his imagination, his material, the tones. And it is all right that no nature at all has had influence upon his work. Why should we painters not have the same right to combine, like the musician, our medium – form, colours, proportions and so on?' And Albers was, in his own right, a maestro of modernism.
INFORMATION
'Sonic Albers' is on view 8 January – 16 February. For more information, visit the David Zwirner website and the Josef and Anni Albers Foundation website
ADDRESS
David Zwirner
537 West 20th Street
New York