Sondra Perry's audiovisual landscape of dreams in Basel
For the inaugural Rolls-Royce Dream Commission, Sondra Perry stages Lineage for a Phantom Zone, an immersive multimedia installation at Fondation Beyeler, Basel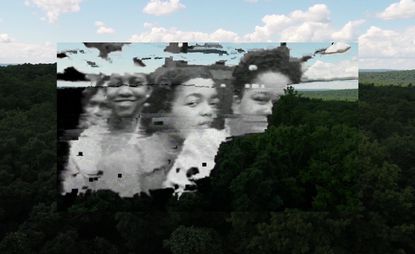 (Image credit: TBC)
Sondra Perry is an artist of high intelligence. Her work addresses a wide range of themes, and is often rooted in issues of race in the United States. Perry, who will be featured in the main exhibition of the upcoming Venice Biennale, uses film and installation in her work. This is often the result of extensive research into complex topics including land rights, memory and ecology, which the artist translates into a post-internet sci-fi aesthetic.
Lineage for a Phantom Zone, currently on view at Fondation Beyeler in Basel is the inaugural Rolls-Royce Art Programme Dream Commission, awarded to Perry in 2020 and finally realised. It will transfer to Serpentine Galleries in London later this year.
A jury of Hans Ulrich Obrist, Katrina Sedgwick, Isaac Julien, Terrie Sultan and Theodora Vischer awarded the biennial prize to Perry for an audio-visual commission dealing with the reconfiguring of history through the landscape of dreams.
'The artist's ability to delve deeply into personal experiences and present them within a socio-political as well as aesthetic context is moving, challenging, and exciting,' says Vischer, chief curator at the Beyeler. She adds that Perry received the award 'based on her outstanding artwork proposal as well as the brilliant way in which she addresses the current moment of vulnerability in her work'.
On entering the space, there is a heady, juicy scent of oranges in the air. Cypress trees hang from the ceiling and stand tall on the floor, their roots encased in bin bags. Mechanised barbers' chairs repurposed from the artist's studio and holding screens move up and down around a sofa, suspended from the ceiling. Parting a waterfall of clear plastic, you stand underneath the sofa, looking up at a flatscreen playing a film. We are indeed in a dream space.
The film was created from Perry's research into her grandmother's childhood during which she worked as a sharecropper in North Carolina. In trying to find the location of the farm her grandmother worked on, she discovered barely any trace of her family – only a wooden house belonging to her cousin in a cypress forest. The work merges this experience with memory and the subconscious language of dreams, evoking feelings of the incomplete and the part-remembered.
A combination of memory, moving image, archival footage and dreams, the films show the wooden house, layers of forest footage and images of the artist's grandmother overlayed by a searching monologue interspersed with Perry playing the theremin. The scent of the oranges, evocative for the artist, never leaves you.
The exhibition is accompanied by a book featuring poetry, writing and dialogue from Isaac Julien, psychotherapist Bola Shonubi, video artist and arts writer Kareem Reid, science fiction and fantasy writer NK Jemisin, and psychiatrist and sci-fi writer Tade Thompson. Intended to help readers connect with the research behind the installation, the book also leaves blank pages for readers to write down their own dreams.
INFORMATION
rolls-roycemotorcars.com (opens in new tab)