Solving the problem: Frederick Clarke's exhibition of language and symbols on show at Johannesburg's Hazard gallery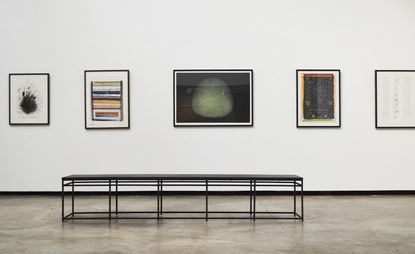 (Image credit: press)
Firing up Johannesburg's creative scene in May of this year was the opening of a new gallery, Hazard. The space is an offshoot of the Nirox Foundation – a sculpture park and creative hub for contemporary artists in the South African city; in contrast to the natural envrions of Nirox, Hazard is a hip warehouse space in the inner city area of Maboneng that recently revealed a new exhibition of codes and chaos called 'Let X Be' by Frederick Clarke.

Clarke's exhibition explores the complex connections between mathematics, philosophy, science and religion. His works jumble language and symbols into patterns, making them, in his mind, a 'counter element of play and chaos'. The pieces are the result of the automatic writing – filling pages with the essence of his subconscious – that Clarke became interested in while travelling in 2013, and which he began generating in earnest for the show in January of this year.

The 'X' of the show title works as the start and end point for Clarke's vision. As in mathematics, X is what we are constantly trying to work out: the result of the equation. Clarke's work argues that it is an 'insolvable and infinite question', as in the philosophical 'chicken or egg?' debate (and all manner of hypothetical religious wonderings). 'Like any binary, you can't have one without the other,' Clarke explains. 'It is like a game.'

The concepts of play and game are like processes in his work; Afterthoughts appears as a complex calculation over an image of the back of a head. Whilst the piece looks like a set of erratic equations, the 'game' notion comes to mind through its 'ladders' of yellow lines – are they leading to the 'truth'? An answer? 'Not knowing what comes next keeps the process exciting,' Clarke says. So we continue to play.

Science is frequently referenced in Cataract. The piece shows lines of pattern in grey and black tones covering a small illuminated red section. Much like the medical eye condition, the area appears to need to be uncovered. Clarke says his work is 'inspired by DNA and the idea of a program that mutates and adapts over time'. The helix-style pattern here reflects this, posing questions – as with philosophy – without an obvious end.

But those questions remain: what do these pieces mean? Should we dig deeper for an answer? Perhaps we should just embrace Clarke's message and 'Let X Be'.
ADDRESS
Hazard
64 Fox Street, cnr of Main and Berea
Arts on Main
Maboneng Precinct
Johannesburg CBD