Simon Fujiwara delves into self-identity and scandal in 'Joanne'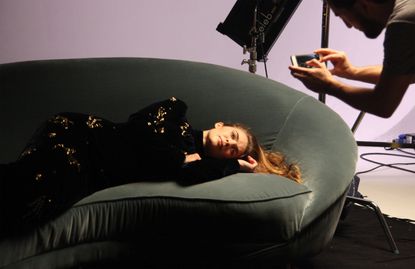 (Image credit: TBC)
'Ever since I was very young i've projected a particular persona. I've been very good at hiding pain. I'm an actress. I play a role.'

So states Joanne Salley, the focus of Simon Fujiwara's Joanne, a new video piece on view at London's Photographers' Gallery. This notion of self-image and artifice – bolstered by an accompanying series of portraits by esteemed fashion photographer Andreas Larsson – forms the crux of the work.

Salley was Fujiwara's secondary school art teacher during his time at Harrow. A few years after he left, she was embroiled in a tabloid scandal when private semi-nude photographs of her were circulated by students, causing her to leave her job.

Half a decade on, Salley and Fujiwara began work on this project in an attempt to reconcile her feelings about the event, as well as reclaim an identity based on her multifaceted talents, rather than looks. The film itself is a mishmash meta-narrative, segueing from moments of soft-focus wellness (replete with an upbeat trance soundtrack) to first-person iPhone testimonials, and surreal, behind-the-scenes photoshoot footage.

Salley employs a PR focus group to help work through the process of reconstituting her image, before literally sourcing an actor to play her brand manager. As a model, beauty queen and actress, Salley's objectively pristine appearance is cannily offset with footage of her in the boxing ring (she's a champion fighter) – her honed physicality given a visceral spin. It's quite unexpected and purposefully untitillating.

There's plenty of candid self-reflection in here too, not least in a walking tour around Harrow School. Salley's fractious personal background meant that she found a new 'family' in the school, one that was ripped away from her by means outside of her control. 'Trying for me to understand what happened is also coming to terms with not having the community of a family anymore,' she says. Her return to the school grounds is a way of closing the door on a part of her life she never intended to eschew. The emotional clout is palpable.
Then comes the monologue on acting – but just as the tears start to roll and the cod-emotional soundtrack swells, we cut quick to some slo-mo larking and the vaudeville parp of 'Ta-ra-ra Boom-de-ay'. It's an irreverent juxtaposition that curbs the navel-gazing and actually adds emotional resonance (the chameleon clambering on Joanne's head in this sequence is a neat allegory, and charmingly surreal; the literal mudslinging perhaps a little too blunt).

It's an enveloping, layered work – totally self-aware in its use of visual and narrative tropes to blow open and explore a far darker, emotionally abrasive story. 'I feel like I'm cheating if I say: I am a model, I am a teacher, I am a lover, I am an artist, I am a chameleon, I am a fighter... I am a person... I am a female,' says Salley at the film's outset. It's that final pronouncement – banal when preceding the film, monumental in retrospect – that encapsulates the heart of 'Joanne'.
INFORMATION
'Simon Fujiwara: Joanne' is on view until 15 January. For more information, visit the Photographers' Gallery website (opens in new tab)
ADDRESS
The Photographers' Gallery
16–18 Ramillies Street
London W1F 7LW
VIEW GOOGLE MAPS (opens in new tab)