Sheila Hicks' thrilling textiles are the antidote to our modern world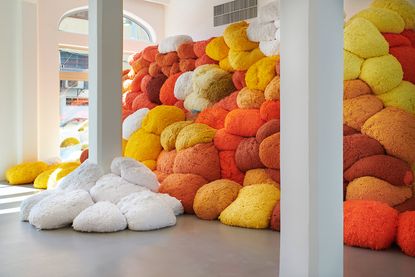 (Image credit: Courtesy of Magasin III Jaffa. Photography: Noam Preisman)
Ask a dozen different visitors at artist Sheila Hicks' current Tel Aviv exhibition what they see in her monumental installation Saffron Sentinel (2017) and you can expect to receive nearly twice as many answers in return. One might see a river of marshmallows breaking its banks or the flow of magma in the voluminous mounds of pure pigmented fibre, stacked thick and flocculent. Others (children, namely) view the brilliantly hued artwork as an enticing invitation to take a running plunge into the spongey stacks.

Curated by Karmit Galili and now open at Swedish institution Magasin III's permanent satellite space in Jaffa, the show features three recent installations by Hicks. 'It's an exhibition to stimulate enquiry of what you know, and also of what you don't know,' explains the Nebraska-born artist. Take the colossal work that dominates much of the space, made from an ambiguous material. 'This [Saffron Sentinel] is manmade, taking the pigment from the earth, transforming it with acrylic,' reveals Hicks, 'and then sending it to spinners, who can make it into a line, into a thread.'
Comets (detail), 2016-2018, by Sheila Hicks, yarn and textile fragments, installation view at Magasin III Jaffa.
Opposite, a bas-relief of multiple circular disks – or a 'memory bundles', as Hicks calls them – are mounted onto the wall in a vibrant constellation of hand-wrapped tinted yarns and textile fragments. The third work, Menhir (2016), comprises a column made of kilometres of linen strands cascading from the gallery's high ceiling. Hicks chose the exhibition title 'Migdalor' (the Hebrew translation for 'lighthouse') as a symbolic nod to forms that can be pathfinders, and it seems, that Israel has long been a beacon for the artist.

Hicks made her first trip to Israel 'early last century', she quips, and has visited 20-odd times since. 'Keep awake and watch, because it's all happening and it's happening very fast,' the 84-year-old artist says of the country. 'People are living at a very fast pace here – they're not ambling along. They're on high energy, high productivity, high speculation – everyone is grabbing and getting what they can get.'

Still, Hicks sees threads of similarity with the area of Paris where she lives. 'It's very much like the neighbourhood here [in Jaffa]. You came out of the metro in the morning, you're going to see every colour, every shape, hear every language. You're going to hear people asking for directions, trying to find their way. But how do you express that in a white box? And how do you express that to people who are coming to see something and not just be bombarded with a television that's telling you what to think?' she challenges.
Installation view of 'Migdalor' at Magasin III Jaffa.
Modern-day exhibitions, notes Hicks, are largely supplemented by videos. 'You go see ten shows in ten different galleries, and listen to ten videos talking to you,' she says. 'When you wake up in the morning, you're going to take a thread of that experience and amalgamate it. It's all woven together – a quilt inside your head of that experience the day before.' In the age of information overload, we rely increasingly less on intuition.

The Jaffa show sits in stark contrast, a paean to emotional instinct filtered through personal experience. 'I'm going to give you an impact – that's my intention – and you're going to have a very hard time interpreting what this show is about, because I'm narrowing it in,' she explains. 'I'm concentrating it, I'm focusing it, I'm making it strongly and uniformly simple.' In Hicks' deft hands, simplicity is anything but reductive.
INFORMATION
'Migdalor' is on view until 15 February 2019. For more information, visit the Magasin III website (opens in new tab)
ADDRESS
Magasin III Jaffa
34 Olei Zion
6813131 Tel Aviv-Yafo
VIEW GOOGLE MAPS (opens in new tab)