Sheer will: Artist Do-Ho Suh's ghostly fabric sculptures explore the meaning of home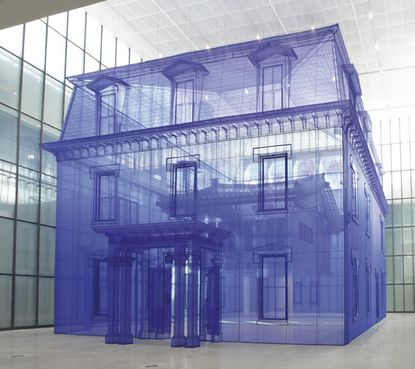 (Image credit: Artist Do-Ho Suh)
Korean sculptor and installation artist Do-Ho Suh explores the notion of home with a dazzling double showcase of new work in Asia. His exhibition at Hong Kong's Lehmann Maupin gallery showcases his signature gem-coloured fabric sculptures under glass: household items rendered priceless with his crafty touch. At the same time, Suh marks the inauguration of Seoul's National Museum of Modern and Contemporary Art with his largest artwork to date, a 1:1 scale replica of two houses he has previously lived in, one inside the other.

The simultaneous shows offer two complementary 'quests' by the artist to explore the theme of personal space. The translucent organza-like polyester highlights in brilliant colour the 'invisible memory' of our daily experiences at home. Suh chose the fabric, a variety once used in traditional Korean summer wear, 'because it was cheap and readily available, and I didn't want to give too much value to the fabric itself'.

In Korea, the vast new space lent Suh a stage of unprecedented size for his full-scale replicas: his childhood home, rendered in purple fabric, suspended within a recreation of his first apartment building located in Rhode Island. The life-sized work measures 12m x 15m - large enough for visitors to walk through for a unique perspective on the artist's personal space.

The galleries also offered a creative opportunity. 'Huge floor-to-ceiling windows incorporate views of a reconstructed ancient palace that once stood on the same site,' says Suh. 'As you approach the gallery space, my translucent piece is between the viewer and the longer view, so it becomes five homes-within-homes: my two homes inside; the museum; the palace; and then Seoul.'

The works were so large and complex that Suh employed a 3D scanning machine to ensure the dimensions were precise. 'It is the first time I've made such a large fabric sculpture,' says the artist. 'It was so challenging, but I think technically we have accumulated so much experience and knowledge that now we could make anything. Even something like the White House.'

Although a series of smaller individual pieces such as a toilet, heater and light switch are on show at Lehmann Maupin Hong Kong, Suh says separating the works draws attention to detail. Explains the artist: 'They are literally specimens, just as the title of the show says.' The gallery, - both similar in size and shaped to Suh's own apartment - has been painted completely in black, with each piece arranged as if 'at home' and illuminated from behind to enhance its transparency.
Receive our daily digest of inspiration, escapism and design stories from around the world direct to your inbox