Sam Winston exhibition, London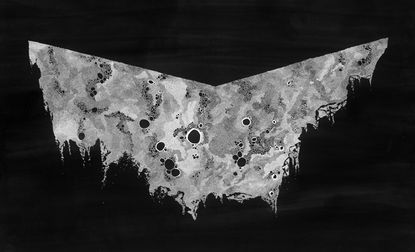 (Image credit: press)
Statistics may sound a dry starting point for an artist but, in the hands of Sam Winston (opens in new tab), they have a surprising visual intensity. For his new work, titled 'Birthday', he recorded every individual birth and death in the world over a 12-hour period with a tiny bubble-like circle. On show at London's Kaleid Editions (opens in new tab), the resulting images capture the ebb and flow of the world's population to haunting effect.
Words are an equally strange muse for a dyslexia sufferer but, as other works in the exhibition reveal, they've long fascinated the London-based artist. He sees words as images - a habit developed perhaps as a way of coping with his impediment - which he cuts up and reconfigures to produce a new aesthetic that is about much more than just reading.
'Passion rage solace' is a series of works-in-progress, based on Shakespeare's Romeo & Juliet. Winston has separated the words of the play into the three emotional states that make up the title, weaving collages out of the columns of text. The result is an energetic whirl of words, with an extraordinary visual, as well as literary, power.
Winston is also unveiling his new book, 'Orphan', at Kaleid Editions, which he has printed as a wall hanging for the exhibition. 'For Orphan, I wanted to present both my final tale and show some of the archaeology of the writing process,' he says. To this end, the artist kept every scrap of paper, diary note and typed word document he made while constructing the story and, by cutting out words from these drafts, he has created clouds of text that form the final story. 'It's a book in which you have both the story and its history on the same page,' he explains.
In this way, the process is every bit as important as the final work. As a testament to this, he is taking up residence in the gallery throughout the exhibition, creating new works in situ, so you can see him in (very slow) action.
'Kali' by Sam Winston. The smashed frame of this work is identical to the frame containing it. Its name refers to the Indian goddess of time and 'of the transformation that is death', explains Winston. 'It is an ongoing project, in which each stage of the artwork becomes frame - is destroyed - and then remade in its own image'
ADDRESS
23-25 Redchurch Street
Shoreditch
London E2 7DJ
VIEW GOOGLE MAPS (opens in new tab)