The much-anticipated Saatchi Yates gallery opens its doors in London
The new Saatchi Yates gallery in Mayfair promises a programme of emerging global talent. First up, Swiss artist Pascal Sender's AR-driven works. Watch the interview with the artist on our Instagram Stories here.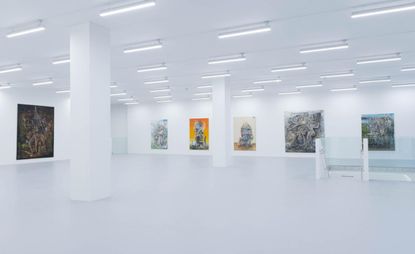 (Image credit: saatchiyates.com)
Wallpaper* Newsletter
Receive our daily digest of inspiration, escapism and design stories from around the world direct to your inbox
Thank you for signing up to Wallpaper. You will receive a verification email shortly.
There was a problem. Please refresh the page and try again.
A vast 10,000 sq ft space on Cork Street, split into two levels including an open office space, the new gallery is the brainchild of art world titan Charles Saatchi's daughter Phoebe Saatchi Yates and her husband Arthur Yates.

'Our gallery will show artists at the start of their careers in full-scale presentations. We are going to represent them and work with them throughout their careers,' says Phoebe Saatchi Yates. 'We view it as "marrying" the artists; every one we are completed invested in and completely behind. We are all in at the start line.' In addition, the duo will display and sell contemporary works from leading names: for the opening, this includes works by Yayoi Kusama, Robert Motherwell and Anselm Kiefer. 'Normally if you are going to see a secondary market work, you would usually go to a dealer's house or you see this kind of work in an auction hang. So, we are somewhere in the middle as we will have ten artworks on show at any given time in our office space which is open to view,' explains Phoebe.

The inaugural exhibition is a series of paintings and works on paper by Swiss-born, London-based artist Pascal Sender. Fascinated with augmented reality, Sender integrates technology into his practice: previously, he has created works by following the instruction of live digital audiences. To accompany the artworks for his Saatchi Yates show, he has created an app through which to view the works, bringing them to life in a fully immersive experience using 3D renderings and sound.
Wallpaper*: What drew you to Pascal Sender's work, and where did you discover him?
Phoebe Saatchi Yates: We found Pascal online. He was doing these live paintings where he would strap an iPhone to his chest and he would paint what the digital audience directed him to. When we saw these canvases, we thought there might be one or two – there are 22. And on the back of this one there is another amazing painting. He has a completely wild mind. This one is a portrait of us which he created over Facetime in lockdown. We had to 3D scan ourselves so he could create the renderings.
Arthur Yates: He has a dedication that is wild. He moved to London because he went to a talk on Georg Baselitz and he couldn't speak English and wanted to understand more. He's learnt how to code and built the app himself. He's so involved in every aspect and it's so playful.
W*: What can we expect in terms of the future programming of the gallery?
PSY: In terms of the programming, all the artists are very international. The next show will be four artists from France who are doing something wildly interesting, then we have artists from Chicago, South Korea, all over. None have every really had big shows before.
W*: It's a brave move to open a brick-and-mortar gallery of this scale during a pandemic. Why was it important to you to do this now? And why did you want to pursue the 'in-person' experience?
PSY: We always wanted to do this for October and Frieze and we thought you can't put your life on hold, especially when you are our age. What are you supposed to do, wait around twiddling your thumbs? We had to go full steam ahead.
AY: I think when all the restrictions get lifted, going to galleries will be so important. We realised when we were building the space how critical it is. I'm sure that people will be so excited to go out and actually see art. We wanted to do something big and bold in this space. There is no romance left in art fairs and non-live viewing events anymore, art needs that. It's interesting with Pascal because his art is so digital but you need to be in the space to actually view the works in their other virtual dimension. It's quite ironic!
W*: Why London, and why Cork Street in particular?
AY: We looked all over London to begin with. You need to be in Mayfair if you want to have a successful gallery now. Collectors don't go to East London and South London in the same way, there is natural footfall here. Globally, London has a giant art scene and art heritage. England does produce amazing artists, dealers, auction houses, it's really embedded here.
PSY: Collectors come here for weekends. It's nice to contribute to 'your city' and do something at home. Cork Street is a heritage art street and protected.
W*: Will there be a digital presence to the gallery?
PSY: Obviously we will have a comprehensive website and a presence on Instagram but we are traditionalists. We were never going to start a virtual gallery, it takes all the charm out of it. When everyone was going that way, we said 'let's take the risk'. Doing this space in Mayfair with such gusto will be an interesting shake-up.
AY: One foot in the past, one foot in the future.
W*: How long has the gallery been in the works?
PSY: We've always been involved in my dad's collection; it's always been part of the family and part of the conversation. We would always go for lunch with my dad on a Saturday and see shows before, and walk through the student shows. It became a bigger and bigger part of our life during the past five years and something that we cared a lot about.
AY: We started working with Charles on the collection, buying and selling, and started doing some private dealing. We got to a point where we felt confident and had met the right collectors who trust us to take on a project like this.
W*: What was your aim with the architecture of this large space?
PSY: It was a shell, but it was a gallery shell, so we didn't have to transform an office space. All we cared about was making white walls that would best show the art.
AY: We didn't work with an architect per se. We wanted to keep it as simple as possible, we didn't want anything flashy.
W*: Have you set yourselves a brief on the artists you want to nurture, and the collectors you want to work with?
PSY: Something we really want to do with the gallery is not only build a new generation of artists, but we also really want to appeal to young collectors. If you're a new artist, you need a young collector who is going to back you throughout your career. The next generation of collectors is something we are really passionate about building with the gallery.
AY: It's about being approachable. I think a lot of young collectors maybe get overlooked by the old guard, whereas we are a similar age to them and having similar conversations. It makes sense for us to work with younger collectors as well as the more established ones.
W*: How do you share the responsibilities of running the gallery?
PSY: It's all shared, we zig and zag! Some artists call Arthur, some call me, but there are a lot of speaker-phone moments with everyone really! Most things are a total collaboration.
AY: We also have a great team we are working with, and they will be the next movers and shakers.
Below is a selection of artworks by Pascal Sender. To experience the paintings in augmented reality, scan the QR code with your iPad or iPhone camera. This will invite you to download the Pascal Sender app. Open the app and press 'Start' to view the paintings through the AR camera. Enjoy the show!
INFORMATION
Pascal Sender's exhibition at Saatchi Yates runs until 15 December 2020. saatchiyates.com
Watch the interview with artist Pascal Sender on Wallpaper's Instagram Stories here.
ADDRESS
6 Cork Street
London W1S 3LH
Receive our daily digest of inspiration, escapism and design stories from around the world direct to your inbox
Tilly is a British writer, editor and digital consultant based in New York, covering luxury fashion, jewellery, design, culture, art, travel, wellness and more. An alumna of Central Saint Martins, she is Contributing Editor for Wallpaper* and has interviewed a cross section of design legends including Sir David Adjaye, Samuel Ross, Pamela Shamshiri and Piet Oudolf for the magazine.