Regurgitated memorywares: Ry Rocklen's 'LA Relics' at Honor Fraser Gallery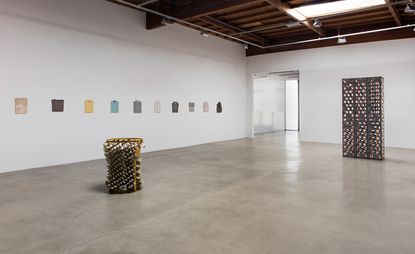 (Image credit: Brian Forrest)
A few years ago, Ry Rocklen bought a vintage school locker for $60 at the St Vincent de Paul thriftstore by his studio in downtown Los Angeles. Around the same time he also found an old yellow city trashcan on the street in LA's Cypress Park. As an artist who has turned everything from his childhood pillow to plastic sporting trophies into elegant conceptual sculptures, the two items were ripe for a transformation.

'It's such a classic locker, it has all the qualities one would want: the lock that no longer closes because it was broken and busted; the classic Powell Peralta sticker; the Sharpied 'Ricky'; the numbers 31 through 36, each one of which has a special significance,' says Rocklen. After thinking about this storage unit for a few years, he decided to intervene on it by sandblasting the insides, perforating a polka dot pattern into every side of metal with a water-jet, then plating the interior in copper. 'I wanted that warm, fabulous glow, and initially I was thinking to plate it in gold, but I didn't like gold for its relationship to capital. It was too loaded.'

He proceeded to elevate the garbage can by filling the holes of its lattice structure with folded dollar bills, that he covered on one side with putty and sand from Venice Beach. 'I was so interested in this as an object that's sculpted over time by being bashed over the truck every week,' says Rocklen, who affixed a mirror to the bottom, so visitors can view themselves amid the armature of cheap currency. 'I think of it almost as a philosopher's stone. There's a sense of ritual for sure, and I like the fact each dollar has its own character.'

The two sculptures now form 'the linchpin' of 'LA Relics', the artist's latest hometown solo show at Culver City's Honor Fraser Gallery. 'These objects carry so much resonance unto themselves, and in seeing how they can be incorporated together these sculptures have not only a poetic intersection but a formal intersection as well,' he explains. That sentiment could very well define the essence at the heart of his sculptural practice, which is rooted in self-portraiture and anthropomorphism.

In addition to a new series of pigment-embedded slip-cast stoneware sculptures of his wardrobe – from a brown vintage tee to a Patagonia hoodie – hanging in a line opposite the locker and trash can, in the adjoining gallery Rocklen is showing a terra cotta planter replica of a football head mask, a desert-aged poster documenting his Trophy Modern sculptures, and an aluminium cast of a fabric-hardened pillow in the shape of a Sprite can.

'I think this is something that happens in the show a lot, this regurgitation of an object, like from soda can to pillow back to soda can in a way,' says Rocklen. Another regurgitation plays out in a third gallery where the artist has installed a three fixture shower wall made with tiles selected from his archive of castings from previous series – snapshots of his shirts and pants, telephone poles, LA Water manhole covers, the eyes of a stuffed alligator, or snippets of doll houses. 'There's this generic sensibility that is of interest to me and there's a kind of sweetness to that collection of objects.'

While retaining that sense of poetry, Rocklen ratchets up the technical wizardry in the main gallery with four ambitious sculptures from his My Metropolitan series. The concept began a decade ago when he was still a student at USC and became obsessed with a lifesize photo of an ancient Persian vase that he saw in the Metropolitan Museum of Art Bulletin. He cut the image out of the magazine, affixed it to a hunk of CelluClay, then sculpted a three-dimensional replica of the vessel while leaving the photographic rendering as flat as he could.

'Yutaka Sone came in for a studio visit and he was like, "Ry this is a good piece, but if you really want it to be great you have to make it out of ceramic." He was exactly right, but I wasn't quite sure how to do it and I felt like it was out of reach,' recalls Rocklen. He eventually saw the vessel from the magazine at the Met years later, and photographed it. Last year, he found a woman in Georgia with a retrofitted Ricoh printer (that uses glaze instead of ink) and enlisted her to make a ceramic decal print of the image. He then identically carved half of the vessel out of styrofoam, molded it, cast it in ceramic, fired the decal onto a flattened façade, and then installed the simulacra on a glass shelf attached to a cheap-looking mirrored brass display.

While he's made numerous single-shelf installations over the past year, for 'LA Relics' Rocklen is cutting his digital antiquities into thirds and fourths and placing them atop multi-shelf display units that respectively exhibit an elephant (with a decal of a Batman-shaped car seat), a sticker-and-graffiti-bombed chest of drawers, a hooded winter military uniform and a rope-bound kitten sculpture.

The whole endeavor, Rocklen notes, is really meant to be 'a portrayal of virtual space in archaic analogue material'.

If all these regurgitated memorywares don't arouse the timeworn scent of history Rocklen will be diffusing 'Goodwill', a custom fragrance invoking the aromas of the eponymous thrift store, throughout Honor Fraser's entryway. And should you want a keepsake to recall the gallery experience, this 'average scent of all our stuff' will also be available in limited-edition ceramic bottles.
INFORMATION
For more information visit Honor Fraser's website (opens in new tab)

Photography: Brian Forrest. Courtesy the artist and Honor Fraser Gallery
ADDRESS
Honor Fraser Gallery
2622 S. La Cienega Boulevard
Los Angeles, CS 90034
VIEW GOOGLE MAPS (opens in new tab)