Hidden treasure: photographer Mauro Fiorese gives a glimpse into museum storage facilities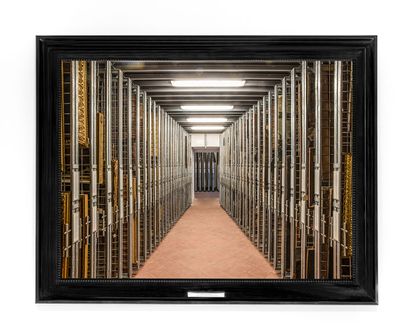 (Image credit: Mauro Fiorese)
The works we see presented during exhibitions are most often only a tiny fraction of a museum's overall collection, the entirety of which is held in private storage vaults. These tightly guarded spaces contain countless treasures – some of which are simply too valuable to be put on display. Italian photographer Mauro Fiorese was granted unprecedented access to the archives of Italy's most renowned museums – including the Uffizi Gallery in Florence, and the Galleria Nazionale d'Arte Moderna and Galleria Borghese, both in Rome – for his ongoing series 'Treasure Rooms', which recently made its US debut at Robert Mann Gallery in New York City.

The images document the vast, labyrinthine hallways of these underground archives, lined with innumerable racks and shelves, and stacked with masterpieces. A tension emerges between the sumptuous oil paintings and the sterile, meticulously ordered environment in which they are housed. These vaults are not as romantic as we might have imagined them to be, but there is a beauty within the precision. The photographs reveal that underneath the ground of our beloved museums is a kind of parallel exhibition space, as carefully considered as the central exhibition galleries (sometimes the clusters of objects even appear to be curated) yet weaving alternative strands of art history.

Fiorese stages his photographs to echo the subject matter: the compositions mimic the perspective constructions of Renaissance paintings and the resulting images are printed on cotton paper, and encased in glass and a gilded museum-ready frame. The striking absence of a human presence in this mysterious world creates the sense of being in a slightly surreal, imaginary art gallery – one made entirely for the figures inside the paintings, to stand guard and quietly wait.
INFORMATION
'Mauro Fiorese: Treasure Rooms' is on view until 22 October. For more information, visit the Robert Mann Gallery's website
ADDRESS
Robert Mann Gallery
525 West 26th Street
New York, NY 10001