Paris Photo 2022: a guide to the best art exhibitions
With Paris Photo 2022 in full swing, read our guide to the best Paris art exhibitions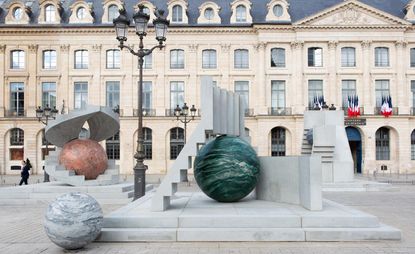 (Image credit: © Alicja Kwade Photo. Archives kamel mennour. Courtesy the artist and kamel mennour, Paris)
Paris, it seems, is experiencing something of an art Renaissance. Long the epicentre of the 20th-century art scene, the so-called 'city of art' served as a cultivator of radical art – including the impressionists, surrealists, and dadaists, and remains home to some of the world's most lauded museums and art schools.With the recent Paris+, par Art Basel, and Paris Photo (10-13 November) in full swing, there's plenty of exhibitions and events to see around town. Explore our highlights:
Flowers Gallery at Paris Photo (booth D23)
Flowers Gallery will be exhibiting a dynamic cohort of photographers. Gabby Laurent's sculptural and performative explorations of domesticity contrasted with protection can be seen with Lorenzo Vitturi's colourful connections to personal stories and local culture, along with Edward Burtunsky's hard-hitting African Studies series. Other works on the show are from the equally as impressive Esther Teichmann, Simon Roberts and Elger Esser.
Magnum 75 in Paris
As a continuation of its 75th anniversary celebrations, Magnum Photos has curated a packed programme to explore the past, present and future of the renowned agency. Shows will be at Magnum's own gallery, Poush and the Fondation Henri-Cartier Bresson. There will also be talks led by their contemporary nominees and book signings, a rare chance to connect directly with photography icons.
Webber Gallery, Paris Photo (booth A3)
Webber Gallery returns to Paris Photo exhibiting recent works from Senta Simond, Chris Rhodes, Zora j Murrff, Thomas Albdorf, Robbie Lawrence and Theo Simpson. Together they reflect a move beyond photography being categorised in any way and instead exist as expansive artworks by photographers actively shaping this wide-ranging industry.
Cyprien Gaillard: 'Humpty \ Dumpty' Palais de Tokyo and Lafayette Anticipations Until 8 January 2023
French artist Cyprien Gaillard's major two-part show 'Humpty \ Dumpty', simultaneously exhibited at the Palais de Tokyo and Lafayette Anticipations, is anchored in our obsession with battling the effects of time. He looks to Paris in a time of transition as it prepares to host the 2024 Olympics, specifically the buildings and monuments overlooked during the city's facelift. Through abandoned Parisian clocks, love locks and asbestos, Gaillard dissects the human urge for structural restoration and preservation.
palaisdetokyo.com, lafayetteanticipations.com
Jermaine Francis: 'A Storied Ground' Galerie PCP Until 18 November
Visual histories of the British landscape are inextricable from the politics of ownership; with sweeping and romanticised scenes conveying a sense of self-righteous belonging for the white upper classes. Mirroring the gestures of a body that 'belongs', Jermaine Francis' 'A Storied Ground' repositions the power dynamic; his participants exude a sense of being at ease, with no need to justify their harmonious existence within the landscape. There's a valuable, palpable tension in this inversion of traditional aesthetics.
Writer: Sophie Gladstone
Ugo Rondinone: 'the water is a poem unwritten by the air no. the earth is a poem unwritten by the fire' Petit Palais Until 8 January
Alongside two new video installations, Rondinone's exhibition at Petit Palais builds on his sculptural works, considering the human body in contact with the elements. Humansky and Nudes explore fragmented human forms and place them amongst historic, mythical sculptures; and a film, burn to shine is projected onto a charred wooden cylinder, displaying movement and fire inside an enclosed structure.
'Les Militantes' Guerlain Until 14 November 2022
Staged at its boutique on Avenue des Champs-Élysées, heritage French perfumer Guerlain is presenting a new show dedicated to women's activism through the work of 21 established and emerging artists including Louise Bourgeois, Sir Zanele Muholi, Niki de St Phalle, Kiki Smith and Thu Van Tran.
Fellowship at Paris Photo (booth E6)
For those curious about the ever-evolving landscape of collecting photography, Fellowship's Paris Photo presentation is a must. Featuring works by Guy Bourdin Estate, Dmitri Cherniak with the estate of László Moholy-Nagy, August Sander, Cristina de Middel, Tania Franco Klein, Eman Ali and Gregory Crewdson. Established just last year, Fellowship translates the seemingly inaccessible world of NFTs, the metaverse and Web3 in a framework that empowers both artists and collectors.
Jenny Saville: 'Latent' Gagosian, rue de Castiglione Until 22 December 2022
Caroline Tompkins, Bedfellow
Book signing at Polycopies 12 November, 4pm
There is a clouded divide between fear and desire; a crossing between the personal and political, the pleasurable and painful. Now, in Caroline Tompkin's book 'Bedfellow' which is having its Paris debut as part of Polycopies 2022 , she shares these contradicting truths with us through images that pulse with attraction and apprehension. While a leach feeds on a bare male torso, Caroline Tompkins kisses a man, a caravan implodes in flames, a nudist returns our gaze, and then the sun sets. As talented a writer as she is a photographer, the book begins with a sharp essay, creating a charged context for Tompkins' imagery. We recommend stopping by Polycopies at 4pm on Saturday 12 November when Tompkins will be signing books.
Alicja Kwade: 'Au Cours Des Mondes' Place Vendôme Until 13 November
Berlin-based artist Kwade presents an installation of concrete and natural stone works at Place Vendôme, in a public installation curated by Jérôme Sans. Placing Kwade's historic and recent works alongside one another, the show questions our relationships with knowledge and power.
Anri Sala: 'Time No Longer' Bourse de Commerce - Pinault Collection Until 16 January 2023
Previously shown at the Buffalo Bayou Park Cistern in Houston, Albanian artist Anri Sala presents 'Time No Longer' for the second time. A surreal sound and video installation loops timelessly, accompanied by enchanting music. The show layers influences from space travel, the holocaust and alternate dimensions, as well as a selection of Sala's engravings, prints and ink drawings to reflect on the concepts of time, nature and nation.
Mirdidingkingathi Juwarnda Sally Gabori Fondation Cartier Until 6 November
In the first major survey of her works outside of Australia, Foundation Cartier is presenting works from aboriginal artist Mirdidingkingathi Juwarnda Sally Gabori's nine-year career before her death. Painted on huge canvases, some up to six metres long, her masses of colour are distinctive, referencing the small island that she grew up on, her identity and the struggle for aboriginal land rights.
'Monet-Mitchell' and the 'Joan Mitchell Retrospective' Foundation Louis Vuitton Until 27 February 2023
The Louis Vuitton Foundation introduces the work of Claude Monet and Joan Mitchell's observations of the natural world, placing them in conversation with one another. Monet's intricate and dream-like garden scapes sit alongside Mitchell's frantic observations of colour, each marking an era of abstract expressionism.
Information
Paris+ par Art Basel fair will run from 20-23 October (preview day 19 October) at the Grand Palais Éphémère, Paris. parisplus.artbasel.com
Harriet Lloyd-Smith is the Arts Editor of Wallpaper*, responsible for the art pages across digital and print, including profiles, exhibition reviews, and contemporary art collaborations. She started at Wallpaper* in 2017 and has written for leading contemporary art publications, auction houses and arts charities, and lectured on review writing and art journalism. When she's not writing about art, she's making her own.