Paper passion: Yayoi Kusama's collages reveal an unknown side of the artist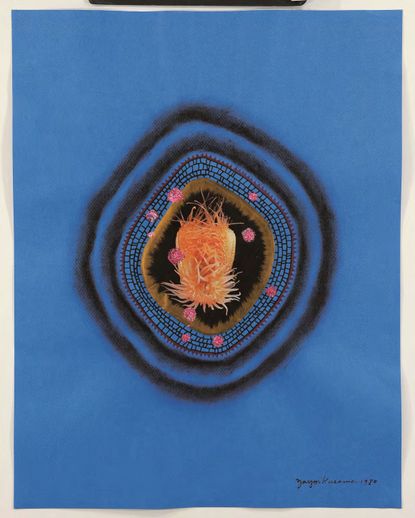 (Image credit: press)
Yayoi Kusama (opens in new tab) is celebrated globally for her ubiquitous dotted pumpkin-shaped sculptures along with her intricate large-scale installations and performances. The fact that the artist also makes collages is far less known. To remedy that the Barbara Mathes gallery in New York is staging 'Collages: Wings in the Net Forest,' which showcases nine of her delicate collages dating from the 1980s and 1990s.

As to what led the idiosyncratic Japanese artist to turn to collage, Mathes points out, 'Kasuma was in daily contact with Joseph Cornell and no less than that creator of Surreal magical boxes gifted Kusama his collage materials right before his untimely death in 1972.'

Like Cornell, Kusuma explored entrapment and freedom. This is reflected in her 1996 Repetitive Vision - a delicate collage dotted with pumpkins in a forest in which the Japanese artist has included a figure of herself topped by an orange wizard hat, somewhat hidden. 'There's tension between being part of the landscape but seeking to escape,' says Mathes.

All produced while she was in Japan, her other collages feature birds, sea creatures and insects, among them a fly. They're part of her visual vocabulary and reveal a sense of mobility, but at the same time a loss of freedom. In some cases, the tones from a brilliant blue to an emerald green are radiant, and the forms themselves are intricately depicted, right down to the twigs of a bird's nest. 'Yes, they're beautiful in terms of color and complexity but at the same time they're haunting,' says Mathes.
INFORMATION
'Yayoi Kusama Collages: Wings in the Net Forest' is on show until 9 January 2016
ADDRESS
Barbara Mathes Gallery
22 East 80th Street
New York