Oslo's revitalised Ekebergparken opens with a new sculpture trail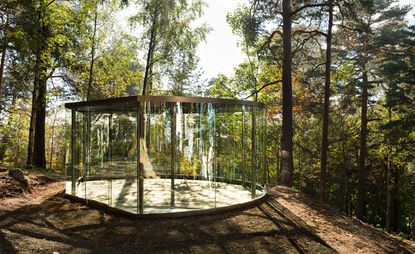 (Image credit: TBC)
Ekebergparken, Oslo's latest revitalisation effort (opens in new tab), is a 64-acre public park that commands a front row seat high above the city, overlooking the harbour entrance, opera house and Astrup Fearnley museum. A historic site with remains from the Stone, Bronze and Viking Ages (and later the Second World War), the 120-year-old 'folkpark' experienced decades of neglect. That condition is now being remedied by Norwegian businessman and art collector Christian Ringnes, by way of nonprofit foundation C Ludens Ringnes Stiftelse.

Spread out along 3km of gravel pathways are 32 works of art - an art-themed scavenger hunt, if you like. The works span the ages, from classic masters like Auguste Rodin and Aristide Maillol to site-specific contemporary installations by James Turrell (opens in new tab), Jenny Holzer, Dan Graham and Tony Oursler. Over the coming years some 80 pieces will be integrated into the park, where an emphasis is placed on maintaining the wild, forested grounds.

Sharing the space with dog walkers and joggers, visitors will start their art walk at Ekebergrestauranten, a beautifully restored functionalist building (opens in new tab) originally designed by architect Lars Becker, that houses several restaurants. Adjacent, two Swiss villas and an annex feature a visitor centre, small museum and the Karlsborg Spiseforretning café (opens in new tab), as well as an activity centre for children. A stone's throw away are Dan Graham's 'Pavilion', Diane Maclean's 'Open Book' and James Turrell's 'Skyspace' and 'Ganzfeld'. For those willing to wander a bit further, artworks by Tony Oursler's, Jenny Holzer and Louise Bourgeois are worth the extra effort.

The location - identified as the backdrop scenery in Edvard Munch's 'The Scream' - also inspired performance artist Marina Abramović in the creation of her own version of the iconic work. In the same familiar setting, she's employed 300 Oslo residents in the release of emotions through outcry. The results are currently being documented and will be released to the public as an art film and book.

Oslo's ten-year-long cultural and urban growth spurt shows no signs of slowing down, a development at least partially fuelled by the generosity of its culture-thirsty citizens.
ADDRESS
Ekebergparken (opens in new tab)
Kongsveien 21
N-0193 Oslo
Norway