New Open Eye Gallery space, Liverpool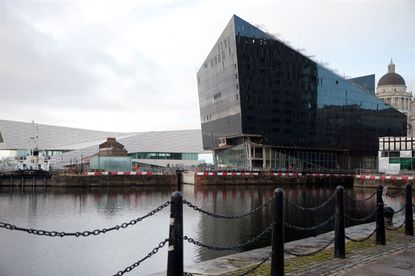 (Image credit: press)
Liverpool's Open Eye Gallery (opens in new tab) has been luring photography enthusiasts in the North West since 1977. One of the most respected photography spaces in the UK, not to mention home to a fascinating archive collection that includes seminal 1980s documentary work by photographers like Martin Parr (opens in new tab), Tom Wood (opens in new tab), John McDonald and John Stoddard (who were living in Liverpool at the time), the gallery has recently moved to Liverpool's Waterfront area, where it has commandeered the lower section of one of the modern buildings that make up the city's forward-thinking Mann Island Development (opens in new tab).
Spread over two floors and twice the size of its former space on Wood Street, the new gallery by RCKa (opens in new tab) architects offers a main exhibition area on the ground floor and a dedicated archive photography space on the first floor.
'We'd outgrown our old space and were looking for something bigger and better for doing ambitious contemporary shows, sometimes with large-scale works,' says Open Eye's director Patrick Henry. 'We also wanted to attract much bigger audiences.' Open Eye Gallery had previously catered to a modest 12,000-yearly, mostly regional, (and somewhat niche) photography crowd. The new Waterfront space, located in the city's cultural tourist hotspot, five minutes away from other arts institutions such as Tate Liverpool and the International Slavery Museum, courts much broader footfall.
'We're still absolutely a photography gallery, but we're very open about what that means,' says Henry, who joined the gallery in 2004. 'Our remit is to explore the medium and the many ways in which artists work with it, so there'll be plenty of surprises.' One of these is the gallery's exterior wall, which is being used to display a series of large-scale commissioned works.
Photographer Mitch Epstein (opens in new tab)'s first UK solo show inaugurates the new Open Eye space. Entitled 'American Power', it is a body of work that won him the 2011 Prix Pictet (opens in new tab) photography award. Dealing with the prickly issue of energy production in America and how this has affected the American landscape, Epstein investigated the idea of nature, government and corporations, photographing over 25 US states over a period of six years to present a rousing case on the effects of mass consumption.
And while the main exhibitions will showcase cutting-edge international photography, the smaller archive shows will no doubt draw in crowds too. Formed in 1980, the Open Eye Archive is made up of the work of more than 100 photographers and comprises around 1600 prints. Its bias on portraiture and documentary style makes it a distinctive collection. 'I'd say it was Liverpool's best-kept secret', says the gallery's curator Karen Newman. 'These prints have not really been used until recently, so the new archive space gives us a chance to get it out and let people see it.' Celebrating a new acquisition for the archives is Chris Steele-Perkins' 'The Pleasure Principle' exhibition, which paints a witty photographic portrait of England in the 1980s.
As part of the new move, Open Eye Gallery's exterior wall will also be used to exhibit specially commissioned pieces. 'The gallery's external facade is designed for dramatic, large-scale installations, which brings a whole different dimension to our artistic programme,' says gallery director Patrick Henry. Kick-starting the series is 'Good Sailing' by S Mark Gubb, 2011, which incorporates the 'dazzle camouflage' concept, used frequently during the First World War as ploy to confuse the enemy
Formed in 1980, the Open Eye Archive is made up of the work of more than 100 photographers and comprises of around 1600 prints. The first archive exhibition to take place in the new Open Eye space will be of the recently acquired body of work by photographer Chris Steele-Perkins, entitled 'The Pleasure Principle'. Pictured here is 'Hypnosis demonstration, Cambridge University Ball' by Steele-Perkins, 1989
ADDRESS
19 Mann Island

Liverpool Waterfront

Liverpool, L3 1BP