Narratives of 1994: Pieter Hugo's portrait of childhood at Stevenson Cape Town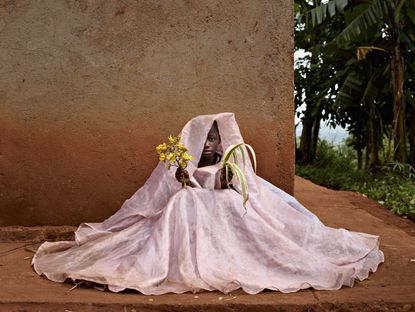 (Image credit: Pieter Hugo / Courtesy Stevenson Cape Town and Johannesburg)
Stevenson gallery in Cape Town, South Africa is presenting yet another new series from the lauded photographer Pieter Hugo. '1994', which constitutes portraits of children born in the post-1994 period in South Africa and Rwanda, is his sixth solo show with the gallery.

In South Africa, 1994 was the year that marked the end of apartheid; in Rwanda, the country's genocide terror stained the very same year. 'I happened to start the work in Rwanda but I've been thinking about the year 1994 in relation to both countries over a period of 10 or 20 years,' says Hugo. 'I noticed how the kids, particularly in South Africa, don't carry the same historical baggage as their parents. I find their engagement with the world to be very refreshing in that they are not burdened by the past, but at the same time you witness them growing up with these liberation narratives that are in some ways fabrications. It's like you know something they don't know about the potential failure or shortcomings of these narratives.'

The portraits were mostly taken in villages around the two countries and show off the thin line between nature as idyllic and a place of terror. 'At times the children appear conservative, existing in an orderly world; at other times there's something feral about them, as in Lord of the Flies, a place devoid of rules,' explains Hugo. 'This is most noticeable in the Rwanda images where clothes donated from Europe, with particular cultural significations, are transposed into a completely different context.'

'The images are conceptually loaded without feeling cluttered. Somehow they're striking but buoyant,' says the Stevenson gallery's Sinazo Chiya.
INFORMATION
'Pieter Hugo' is on view until 16 July. For more information, visit the Stevenson gallery website (opens in new tab)

Photography copyright the artist. Courtesy Stevenson Cape Town and Johannesburg
ADDRESS
Stevenson
Buchanan Building
160 Sir Lowry Road
Woodstock 7925
Cape Town
VIEW GOOGLE MAPS (opens in new tab)
Daniel Scheffler is a storyteller for The New York Times and others. He has a travel podcast with iHeart Media called Everywhere (opens in new tab) and a Substack newsletter, Withoutmaps (opens in new tab), where he shares all his wild ways. He lives in New York with his husband and their pup.