Le voyage à Nantes: western French city becomes an epicenter of eccentricity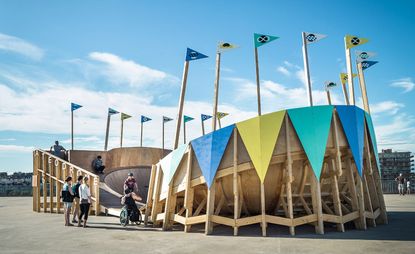 (Image credit: TBC)
'Nantes has changed, very much so,' says architect Thomas Cantin, who has watched his home city's creative community flourish over the past 12 years. Cantin forms part of Nantes-based artist collective Fichtre, just one of a growing number of creative studios that have chosen to make the French city their home, favouring its laid back pace over the freneticism of Paris. 'I knew it was comfortable here, not far from the sea, but now it's the place to be,' agrees Breton-born designer Isabelle Rolland of Rich Lighting Design, who recently moved back to the city from Lebanon via Paris. 'I was so pleased to see how the creative community here has grown.'

After a century that brought Nantes much misfortune – its beautiful canals were filled in to create multi lane boulevards in the 1930s, its buildings were bombed during the Second World War and its shipyards closed in 1987 – the late 1980s marked a turning point for the former shipbuilding centre when the city welcomed Jean-Marc Ayrault as its new mayor.

Impressed by the work of an entrepreneur named Jean Blaise who had launched the Research Center for Cultural Development in Nantes in 1984, Ayrault took the decision to invest heavily in culture and the arts in an attempt to reverse the city's fading fortunes. The investment paid off and while Ayrault went on to become Prime Minister of France (from 2012 until 2014), Blaise, who had served as his right hand man, continued the work that the two began now over 26 years ago. Having set up numerous cultural events in the city and founded the Le Lieu unique arts centre, Blaise's focus is now on a summer-long festival named Le voyage à Nantes.

Celebrating its fifth installment this year, Le voyage à Nantes is an artistic trail marked by a green line that snakes around the city streets. Smile-inducing interventions lie at every turn – a telephone box turned into an aquarium by Benedetto Bufalino, a giant tape measure collapsed at the side of a building by Lilian Bourgeat, a meandering pedestrian crossing by Aurélien Bory, or a topsy-turvy ping pong park by Laurent Perbos. While most of the city's art works are temporary, some have found themselves a permanent home, such as the installations created in 2007, 2009 and 2012 as part of the Estauaire programme – a series of 30 contemporary artworks spread over 120 kilometers of the Loire estuary. Its legacy includes an amorphous blue sculpture-cum-bar by Atelier van Lieshout that popped up in the forecourt of the Architecture School in 2007, as well as Jean-Luc Courcoult's 'La Maison dans La Loire' – a partly submerged house that sits on the river bed, revealed and then hidden by the tide each day.

But perhaps the most spellbinding sights on Nantes' green line can be found at 'Machines de l'Île', a ten-year-old project that has given birth to a fleet of giant mechanical creatures including a 12 metre-high elephant that parades around the city's old shipyards, a giant moving spider that hangs inside a warehouse and a towering three-tiered sea-themed steampunk carousel. It is within the workshops here that the city's next showstopper is to take shape – a 35 metre-high and 50 metre-wide tree topped by two mechanical herons that will carry sightseers in baskets under their wings.

It's difficult to imagine a city in which the population would embrace such a wildly ambitious and fanciful artistic program, but in Nantes, it seems to fit. On a tour of the city's artworks, our local guide tells us 'they call us "être à l'ouest"' – an idiom that means 'Westsiders' but also suggests being 'slightly crazy' – a badge that the Nantais wear with pride.
INFORMATION
'Le voyage à Nantes' runs until 28 August. For more information, visit the fair's website (opens in new tab)