Metal magic: A rare showing of Max Ernst's sculptures takes hold in New York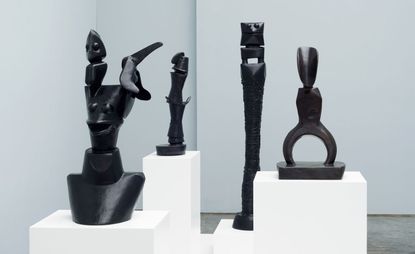 (Image credit: Dan Bradica)
20th century sculpture is in full tilt this season, what with Picasso's three dimensional works celebrated at MoMA (opens in new tab), where the galleries are packed to the gills. But there's a rich alternative down at the Chelsea Paul Kasmin Gallery opening this week. 'Max Ernst Paramyths: Sculpture (opens in new tab)' boasts a total of 14 sculptures made of bronze and limestone spanning years from 1934 to1967 and marks the first solo show of Ernst's sculptures in the United States in a staggering 22 years.

'Max Ernst was ahead of the pack early on,' says Nick Olney, Paul Kasmin's gallery director. 'He was a pioneering figure of the Dada movement as well as Surrealism and always a pacesetter," he continues, adding that Ernst was turning out drip paintings long before Pollock picked up a paint brush.

And when it came to sculpture, Ernst appropriated everyday objects like cups practically before anyone else. Simply consider the artist's 1959 bronze Dream Rose, Huismes in which he first set his sights on the common flower pot, but adds a comic note as it's perched on feet first molded in plaster and then cast from seashells. Another highlight is the 1967 La Plus Belle, Huismes, a cream coloured limestone sculpture that measures in at over six feet in height, which is being presented in this country for first time.

'With Ernst's zooming in on the pedestrian and then reinterpreting the object in a series of geometric planes, his sculptures are sublime while reaching up to a entire new level of artistry,' says Olnick.
INFORMATION
'Max Ernst Paramyths: Sculpture, 1934 – 1967' at Paul Kasmin Gallery runs until 5 December
ADDRESS
Paul Kasmin Gallery (opens in new tab)
515 West 27th Street
New York
VIEW GOOGLE MAPS (opens in new tab)