Maurizio Cattelan at the Guggenheim, New York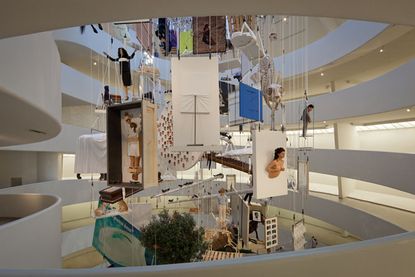 (Image credit: David Heald)
Artist Maurizio Cattelan (opens in new tab) is a notorious provocateur, best known for controversial sculptures like La Nona Ora (The Ninth Hour) - his effigy of Pope John Paul II pole-axed by a meteorite - and a site specific work in Milan, for which he hung up life-sized models of children by their necks from a tree. The Italian may have just announced his 'retirement', yet he is still up to his old tricks. For 'Maurizio Cattelan: All', his current retrospective at the Guggenheim (opens in new tab) in New York, Cattelan has strung up his entire oeuvre on a series of ropes, so that it dangles from the museum's rotunda as if hanging from the gallows.
It's a fitting end to a career that seems to have long revolved around death. In fact, before he even became an artist, he worked in a morgue. But mortality aside, the satirist's references are wide ranging, encompassing everything from pop culture and history, to religion - a diversity made all the more apparent in the giant tangled mass in the Guggenheim.
Filling the void of the Frank Lloyd Wright (opens in new tab) spiral, the 128 works defy chronology, with trademark Cattelan irreverence. As curator Nancy Spector puts it, 'the installation lampoons the idea of comprehensiveness'. There's also a good dose of self-mockery to his act of literal 'career suicide', something that has always pervaded his work. Look closely and among the pieces you'll spot that giant portrait of the artist from 1995, in which he is seen lying on his back, waving his limbs in the air like an eager-to-please dog.
But while 'Maurizio Cattelan: All' is said to be the last show for the Padua-born artist, don't expect him to slip into obscurity any time soon. The exhibition also marks the launch of the fourth issue of Toilet Paper (opens in new tab), his ongoing magazine series, produced in collaboration with fashion photographer Pierpaolo Ferrari (opens in new tab).
Launched in January 2010 and made up solely of surreal and ambiguous images, Toilet Paper is a direct reference to the disposable nature of publishing. In Cattelan's words: 'Sooner or later all magazines end up in the toilet.' The aesthetic combines high production values with unsettling narratives - often of a violent or sexual nature - and a palpable sense of menace.
Ferrari, who in 2006 created art magazine Le Dictateur, describes the collaboration as a 'mental outburst of shared ideas'. The result is a fascinating collection of visual tableaux that confuse, compel and shock, as well as capturing a kind of edge-of-the-diving-board intensity. Gracing the pages of issue four are everything from a man wearing giant fish heads as shoes, to a female figure covered in clothes pegs.
Watch a short film accompanying the latest issue of Toilet Paper
In almost every image of Toilet Paper it feels as if something is on the point of happening. But as with everything Cattelan touches, you never know quite what. And, in spite of his deathly stunt at the Guggenheim, it serves as a potent reminder that you shouldn't write his epitaph just yet.