Mathieu Lehanneur's liquid marble installation makes a splash in France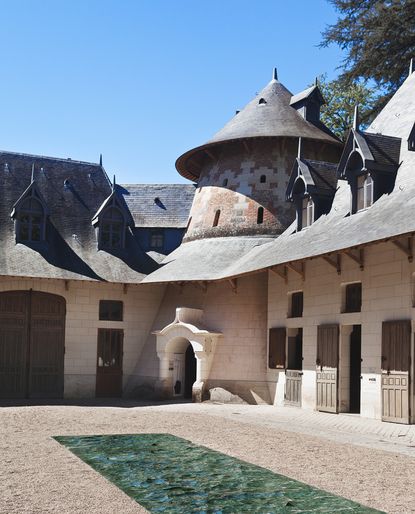 (Image credit: Michel Giesbrecht)
With summer just around the corner, we're already envisioning perfect piscines to dip our toes in. Imagine our surprise when this alluring lagoon, recently unveiled in the centre of a countryside courtyard, turned out not to be a pristine pool, but rather an installation composed of solid green marble by the French designer Mathieu Lehanneur.

Entitled Petite Loire, the most recent addition to his 'Liquid Marble' series is on view at the Domaine de Chaumont-sur-Loire Centre D'Arts et de Nature as part of this year's International Garden Festival. 'I wanted to address the garden with water as my muse,' explains Lehanneur. The installation evokes the French river Loire; he explains, 'It shapes and nourishes the landscape; it passes through without ever pausing along the way. The water whose presence we sense even before we first catch sight of it below the Château, flowing uninterrupted to the sea.'

Comprising a single piece of hand-polished marble and crafted using 3D software, the installation captures the surface of the river, an ephemeral moment of gently rippling water seemingly frozen in time. 'Petite Loire is a freeze-frame, the river's perpetual movement caught in a frozen, fossilised moment. A few dozen metres above the river's natural level, Petite Loire cuts cleanly through the garden's surface, delving into the soil to reveal a fluvial relief, both vertiginous and practicable, in green marble,' adds the designer.

It's a strikingly simple concept but executed with all the sharp-witted elegance we've come to expect from Lehanneur. The designer says: 'I hope that, when passing the Château gates, the visitor will experience something that comes close to a magic portal, to a forbidden place in so many fairytales. Everything is liquid in this space, evanescent, enlightened, and yet it is executed in a material that is the one of the most solid imaginable.'

This year's festival is subtitled, 'Gardens From the Coming Century'. If this is the garden of the future, then the future can't come soon enough.
INFORMATION
'Petite Loire' is on view until 2 November. For more information, visit the Domaine de Chaumont-sur-Loire website (opens in new tab)
ADDRESS
Domaine Régional de Chaumont-sur-Loire
41150 Chaumont-sur-Loire
France
VIEW GOOGLE MAPS (opens in new tab)