Seas the day: dive into previously unseen photographs by Massimo Vitali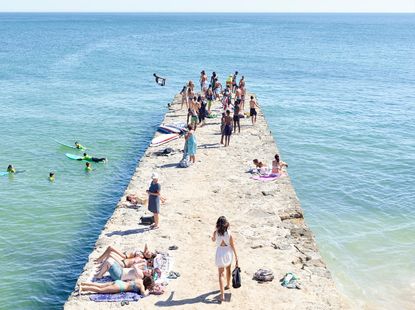 (Image credit: Massimo Vitali)
Life's a beach—but then, unfortunately, you die. There is something ominous in Massimo Vitali's panned-out, colour drenched photographs of people soaking up the sun: these are not pretty Instagram posts (although you can imagine them being popular there), but reminders of our puny presence against nature's indomitable grandeur. In the Italian post war photographer's latest series of work – on view for the first time in public at New York Benrubi gallery from this week – something threatens the breathtaking scenery: us.

Emphatically titled 'Disturbed Coastal Systems', Vitali's supersize snapshot are blown up big (they really have to be seen in person) and were shot at three carefully chosen locations, each popular with holidaymakers, but equally threatening in appearance. Take the images of Seljavallalaug, an historic 25m public outdoor pool in the south of Iceland, open since 1923, with its post-apocalyptic setting. Or the black, volcanic sands of Yaiza, Lanzarote.

Vitali also photographs Cala Llosa in Spain, with its jagged, tooth-like rock formations, and Praia da Torre in Portugal with its high, fortress walls casting shadows on the beachgoers who lie exposed in their swimsuits, outside the stronghold's protection. 'My work intends to show the tension where the natural world and human habitat meet,' Vitali explains, as he arrived in New York to unveil the exhibition, 'and I think these locations are particularly reflective of that. All my photographs are part of an ongoing, ever-evolving project.'
Of course, all seems serene at first glance, summer vacations in full swing, but it's hard not to make the connection, seeing the smallness of humans against these backdrops, to think of how these scenes might appear to those who arrive here under different circumstances; Vitali also seems to use context to reflect on the environmental impact of such human activities on the landscape itself, 'disturbing' its natural order.

Vitali started his career in photography as a photojournalist, but soon came to mistrust the camera and its ability to capture reality. 'My work certainly has a documentary impulse, but I think of it as conceptual documentary. I don't add to or take away with edits, but try to create richly layered works that tell us something more about what lies behind the surface of reality,' the photographer explains. 'Today there are so many different forms of media recording our daily lives that the camera's role has changed and become more complex; it can allow us to question and challenge the world we live in.'

The detached point of view that's persistent in his art (his pictures are always shot from an elevated angle, and taken at some distance) implies a non-human perspective, an objective regard on the world and the people who inhabit it – a retreating gaze, scanning for truth beyond what we're incapable of seeing with the usual human eye.
INFORMATION
'Disturbed Coastal Systems' is on view from 20 April until June 17. For more information, visit the Benrubi Gallery website
ADDRESS
Benrubi Gallery, 521 West 26th Street, 2nd Floor, New York, NY 10001
Charlotte Jansen is a journalist and the author of two books on photography, Girl on Girl (2017) and Photography Now (2021). She is commissioning editor at Elephant magazine and has written on contemporary art and culture for The Guardian, the Financial Times, ELLE, the British Journal of Photography, Frieze and Artsy. Jansen is also presenter of Dior Talks podcast series, The Female Gaze.
With contributions from