Martin Margiela's art rebirth: obsession, enigma and revelation
Elusive 'anti-fashion' designer Martin Margiela unveils his first show as a fully-fledged artist; It's radical, renegade and full of surprises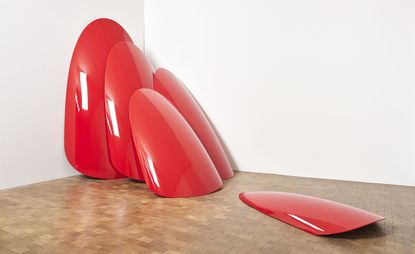 (Image credit: Pierre Antoine)
Martin Margiela, the famously invisible fashion designer of the 1990s and 2000s, is now equally invisible as an artist – which is apt, since visibility (or the lack thereof) is one of his favourite themes.

After pioneering a brilliantly radical view of 'anti-fashion' at the head of his eponymous clothing brand, then abruptly leaving the industry in 2009, Margiela is re-emerging on the scene with his first solo show as a fully-fledged artist. It runs through the end of the year at Lafayette Anticipations – Fondation d'entreprise Galeries Lafayette in Paris.

For Rebecca Lamarche-Vadel, the foundation's director and curator of the show, 'He has always been an artist.' In fact, at age 16, Margiela attended art school in his native Belgium, before opting to pursue fashion. His approach to fashion was avant-garde, his runway shows unconventional. He rejected the cult of the designer, eschewing all photo ops and interviews, preferring that attention be focused on the work – a choice he still holds to today.
This show is equally renegade, inviting visitors to enter through the emergency exit of the Rem Koolhaas-designed building, then to make their way through small spaces set up like a maze. At times, performers are on hand to unveil works as visitors walk by. Guillaume Houzé, president of Lafayette Anticipations, compares the whole experience to 'walking through Margiela's brain'.

Three years in the making, the exhibition comprises more than 20 works, spanning painting, sculpture, installation, collage and film. Margiela acolytes will recognise many of his obsessions – anonymity, vulnerability, transformation, body parts, hair.
According to Lamarche-Vadel, 'the concept around all of this, that has been haunting Margiela for so long, is the question of how to give new attention and a new dignity to what we have marginalised, or what we are not able to recognise as worthy'. Indeed, the first thing visitors come across is a giant image of a deodorant stick covering one courtyard wall, an everyday object that industrialises the body, attempting to make it more desirable with an artificial scent.
Here and there among the artworks, there are blank, ochre-coloured squares on the walls. These reference works that supposedly exist, but are absent. Each has its own enigmatic label (and the imagination can't help but be sparked by one that reads 'Sans Titre, 2011 – washed-up beach sandals transformed into phallus.')

As for the works we can actually see, Margiela took full advantage of the foundation's production facilities, pushing its team's technical know-how to the limit. Lamarche-Vadel says that for the past couple of years he spent several days on site every month, working with the production team on R&D, trying and failing until they achieved his very precise vision. For a work called Lip Sync, based on videos of lip reading for the deaf, he wanted to tattoo images of mouths onto skin-coloured silicone. This meant finding exactly the right density of silicone. And then, says Lamarche-Vadel, 'It was an absolute nightmare to tattoo – the colour, the techniques, the small needles…'
For a series of paintings called Film Dust, Margiela focuses our attention on the tiny bits of dust that cling to Super-8 film, and that we normally overlook. He asked the production team to develop a surface with the grainy texture and luminosity of a movie screen. After months of experimentation, they came up with minuscule beads of glass melted on top of the canvas. Diluting oil paint like watercolour, Margiela painted enlarged specks of dust over the top.

Time – and our pathetic attempts to control it – is another important theme. His Bus Stop reinterprets a humble piece of street furniture where people spend a period of time they generally consider wasted. Fake fur transforms Margiela's bus shelter from something cold and metallic into a warm, welcoming animal, while a glass vitrine gives it a precious quality.
Margiela's father was a hairdresser, and hair has always been a recurring motif in his work. He told Lamarche-Vadel that when visiting museums, he takes careful note of how the Masters painted. In this show, he covers faces with hair, plays with the repulsiveness of body hair, and explores how its colour represents the passage of time (and the ways that people try to master this transformation).

A work called Vanitas, named for a genre of 17th-century Dutch painting that evoked mortality and the futility of vanity, portrays a woman at different stages of her life. Five heads, perfect little spheres, are covered in real hair, the colour changing from blonde to a cheap-looking fake brown to grey. Margiela told Lamarche-Vadel he loves the last one the most, when the subject finally accepts the traces of age.

Fortunately, this is an artist who also believes in rebirth, having long worked with repurposed materials. This exhibition, Margiela's own renaissance of sorts, certainly won't be his last. 'He's incredibly productive,' says Lamarche-Vadel. 'He has thousands of ideas, and could do another five shows like this tomorrow.'
INFORMATION
Martin Margiela's show is on view at Lafayette Anticipations – Fondation d'entreprise Galeries Lafayette, Paris until 2 January 2022, lafayetteanticipations.com (opens in new tab)
All of the artworks are for sale via the Zeno X Gallery (Antwerp), which is also showing some of Margiela's works at FIAC, zeno-x.com (opens in new tab)
ADDRESS
9 Rue du Plâtre
75004 Paris
VIEW GOOGLE MAPS (opens in new tab)