Manchester International Festival steps up a gear for 2013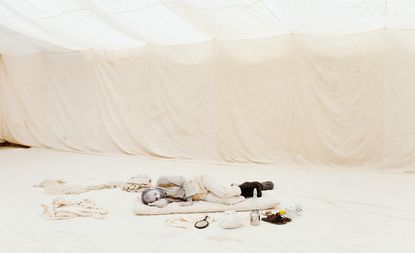 (Image credit: Jessica Klingelfuss)
There's much to admire about an underdog. In spite of its relative youth, Manchester International Festival has managed to carve a respectable niche for itself among heavyweights like London and Venice as a destination for art in its own right. Launched in 2007, the artist-led, commissioning festival is fueled by an unique focus on new works across the spheres of visual and performing arts. For MIF's fourth edition, the red brick city is hosting a vast scope of exhibitions and events more ambitious than ever before.

Manchester Art Gallery leads the charge with 'Do It 2013', its 20th anniversary show conceived and curated by Hans Ulrich Obrist, featuring an impressive line-up of art luminaries. Much like the Fluxus art movement of the sixties, Do It centres on written artists' instructions – ranging from farcical to profound – which lend themselves to completely new interpretations each time they are carried out.

In keeping with the festival's premise of novelty, Obrist enlisted art director Peter Saville – responsible for the striking visual identity of the artist instructions – and sculptor Richard Wentworth, who contributed a specially designed viewing platform to breathe new life into the project. This incarnation of Do It also features a revised format, with the exhibit being divided into four volumes.

The Homage Room, for example, features instructions by deceased Do It artists, enacted specifically for MIF by living artists. Here, Tracey Emin responded to Louise Bourgeois' command to smile at a stranger with an earnest letter of disappointment about the resulting rebuttal, penned in her characteristic scrawl. In the 'Active' corner of the show (instructions aimed at the public by the artists), Ai Weiwei improvises with a makeshift spray device to block a surveillance camera, while the 'Do It' cookbook includes a wicked 'Snow White White Snow' recipe from the inimitable Paul McCarthy.

Many of the Do It projects go beyond the gallery walls, spilling into the streets and appearing in the most unlikely of venues, such as Theaster Gates' performance piece in the nearby Manchester Arndale. 'We wanted to create a never-ending exhibition, one that would never stop. It's like a Russian matryoshka doll,' explained Obrist, 'An exhibition can hide in another exhibition.'

Elsewhere in the city, Whitworth Gallery presented 'Cotton on Coal' – a 65-hour marathon performance by Indian artist Nikhil Chopra who is taking up residence in the empty shell of a yet-to-be-completed extension to the gallery. On the opposite side of town, an abandoned mill on River Irwell has been converted into an agricultural laboratory for the Biospheric Project.

This year also sees the introduction of Mayfield Depot as a venue. The disused railway station and parcels repository forms the backdrop for some of the festival's most provocative events: Massive Attack and filmmaker Adam Curtis' multi-sensory blitz (cryptically pegged as 'a collective hallucination'); and Dan Graham's 'Past Future Split Attention', a time-bending live work.

Only time will tell if MIF fulfills its potential and joins the international art circuit as a mainstay. But in the meantime, this dark horse certainly ensures that it is has something to appeal to everyone.