Maja Hoffmann and Jorge Pardo on creating a remarkable Provençal retreat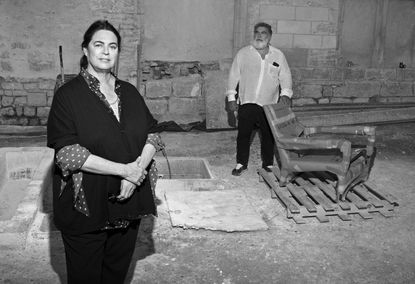 (Image credit: Charles Petit)
In 1888, Vincent van Gogh, ravaged by heavy drinking and disillusioned with life in Paris, found refuge in Arles, intent on creating an artists' commune. 'L'Atelier du Sud' would, he hoped, become a laboratory to experiment with colours and light, repositioning the Provençal city as a centre for artistic production. But the project ended abruptly the same year, after a series of violent quarrels with his friend Paul Gauguin – the only artist who had responded to the invitation – drove the Dutchman to a mental breakdown, during which he famously cut off part of his own ear.

Despite its failure, the ideals behind l'Atelier du Sud left an indelible mark on Arles which, some 130 years later, may get its artist colony after all. Designed by the Cuban-born American artist Jorge Pardo, l'Arlatan – a hotel and artist residence, housed in a 15th-century palace once belonging to the Counts of Arlatan de Beaumont – is set to become a hub for the international intelligentsia brought to the city by the newly established contemporary art centre, Luma Arles.

Built on an ancient Roman basilica (its remains are still visible), and a stone's throw from the Unesco-listed Baths of Constantine, the 5,500 sq m building boasts an impressive list of historic features added through the centuries, including a classical façade on three levels, rebuilt in the 18th century; exquisitely painted wooden ceilings from the 15th century; and a dramatic, monolithic column from the 5th century, formerly part of the baths. 'I thought it'd be interesting to bring a new dimension, one of the 21st century,' explains the president of the Luma Foundation, Swiss art maverick Maja Hoffmann, of the refurbishment she commissioned.
'How does somebody like me speak to that?' muses the softly spoken Pardo, ruminating on the layered history of the site. Pardo, whose practice operates at the intersection of art, architecture and design, rose to prominence in the 1990s as part of the relational aesthetics movement led by French critic Nicolas Bourriaud, which considers social context as the point of departure of an artwork. 'What Pardo consistently creates is spaces that respond with care to his surroundings, while also skewering convention to make something truly original,' says Tim Neuger, co-founder of Berlin's Neugerriemschneider gallery, who has been working with Pardo since 1994.

One of Pardo's first high-profile projects, 4166 Sea View Lane (1998), is a house he built in LA as part of the city's Museum of Contemporary of Art's Focus exhibition series. The house was opened to the public for five weeks before Pardo moved in. The Arles project takes that idea of art as domestic/ public space to a new level. Pardo produced more than 1,300 pieces of furniture, ranging from rocking chairs, wooden tables and woven-cane wardrobes to some 400 laser-cut lamps and chandeliers. They were handmade and painted by a 24-strong team at his studio in Mérida, Mexico (which grew to accommodate the ambition of the project), and now populate 30 rooms and 11 residences as well as communal spaces.

'The aesthetic is not necessarily responding to the antiquity,' explains Pardo, whose concept is more concerned with light and colours, while introducing a dialogue between the Camargue region and his adopted home of Yucatán. 'They're both places where you look at the sky all the time,' he continues dreamily.
But it's the kaleidoscopic surfaces that really set l'Arlatan apart. More than a million handmade, glazed ceramic tiles, in 11 different shapes and 18 colours (ranging from light yellows and tangerine to lavender and sky blue), are assembled into geometrical mosaics (evoking the Moorish art of zellige tiles), covering entire floors and parts of the walls. 'Every tile that you see has a place,' affirms Pardo. 'It's like a painting.' A 5,200 sq m, luminous, oddly fragmented painting which hints at the post-impressionists' response to the local light and landscape. 'There's a deep parallel between our use of colour,' admits Pardo, pointing to van Gogh's later paintings. 'A lot of it has to do with the quality of the light that exists here.'

In a region burdened by unemployment, could the ten containers' worth of tiles at l'Arlatan have been sourced locally to support the economy, instead of being shipped from Mexico? Hoffmann explains that it was impossible to find a ceramic workshop, willing and able to do the job, in the area. But a number of other features – including wooden door frames, concrete work and handrails – were produced and assembled locally. 'For me, it was important to have a production dialogue between both places,' says Pardo, who worked closely with the Arles-based architecture studio of Max Romanet.

While catering to the seasonal waves of tourists visiting Arles (its summer photography festival, Les Rencontres d'Arles, brings more than 100,000 visitors), l'Arlatan will also become an essential component of the Luma Arles art centre. Launched by Hoffmann in 2014, Luma Arles operates primarily in and around the Parc des Ateliers, out of a former rail depot converted by US firm Selldorf Architects, soon to be flanked by a glistening, 56m-high Frank Gehry tower, due in 2020. ('We're waiting for it like the Messiah!' exclaimed our taxi driver as we made our way from the train station.)
Together with her 'Core Group' – a troop of art-world superstars acting as advisors, including Hans Ulrich Obrist, Liam Gillick and Beatrix Ruf – Hoffmann has imagined Luma Arles as an urban archipelago, where buildings are in conversation with one another as well as with their environment (the central drum of Gehry's tower, for instance, echoes Arles' iconic Roman amphitheatre). 'It becomes a more transversal way of thinking,' argues the art collector and patron, whose programme at Luma Arles features large-scale art and architecture exhibitions, talks, institutional collaborations and a social-design workshop focusing on Arles' surroundings.

With its artists' residences, l'Arlatan is certainly set to become a vital resource for the centre. Since its inception, Luma has organised a number of tailored, invitation-based residencies with the likes of Turkish artist Ahmet Öğüt, French critic and curator Anna Colin and, currently, Spanish philosopher and transgender activist Paul B Preciado. 'A communal space will change the dynamic of the residencies,' explains Julie Boukobza, who runs the programme. 'It will enhance the conversation between residents.'

From a Roman basilica to a Renaissance palace and now a contemporary, art-friendly hotel, l'Arlatan's many lives share a distinct legacy of enlightened, artistic conversations. 'History repeats itself,' affirms the conservation expert Renzo Wieder, pointing to the heritage of art and architecture that has shaped the aesthetics of the site throughout the centuries.

As for van Gogh's artist colony, time will tell whether it was just a doomed fantasy or a reality now in the making. In the meantime, Pardo's intervention at l'Arlatan offers an uncanny response to the Dutchman's prediction that, 'the painter of the future will be a colourist the like of which has never yet been seen'.
As originally featured in the July 2018 issue of Wallpaper* (W*232)
INFORMATION
L'Arlatan, by Jorge Pardo, opens late summer 2018. Pardo has an exhibition of new work at Neugerriemschneider, Berlin, 14 September – 20 October. For more information, visit the Luma Arles website and the Neugerriemschneider website
ADDRESS
Luma Arles
Parc des Ateliers
45 Chemin des Minimes
13200 Arles