Made of money: ceramicist Barnaby Barford unveils latest sculpture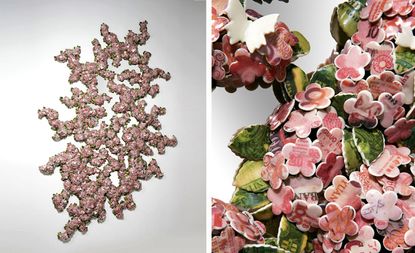 (Image credit: TBC)
Barnaby Barford's (opens in new tab) latest sculpture brings new meaning to the phrase 'made of money'. Crafted from 9,000 handmade porcelain flowers and leaves which have been adorned with fragments of paper currency, 'Avarice' may look pretty and blossom-like, but it's a sharp comment on excess and greed. Look in its mirror and 'you see the truth', according to the British ceramic artist.

Known for hacking up existing porcelain figurines and reworking them to witty - and sometimes rather smutty - narrative ends, Barford's new work is something of a change of tack for the artist. This time, every bit of the sculpture has been handmade by him.

The work will be shown by David Gill Galleries (opens in new tab) at the Pavilion of Art & Design (opens in new tab) London, from 10 to 14 October. In advance of the fair, we caught up with Barford to find out how the piece came to life...

Why did you decide to create something from scratch?
I wanted a new challenge. I know I can make the found figurine sculptures. I wanted to try and do something that I didn't know how to do. I wouldn't be sure how it would come out. The idea was to stretch myself both mentally and physically.

How did your approach to this piece differ from your past works?
It's a complete departure for me. I decided to start afresh so I began in January, reading, thinking, drawing, without too much notion of what would come out. I played with the material, forms, and colours. I wanted to really explore the idea of Avarice and what it means to me and our society now. It was much more in depth analysis than I have been used to working on. The whole process has been different, but this was really the aim of the project.

What prompted this piece? Why the sudden commentary on greed and wealth?
Money, or even the lack of it, seems more important now than it has in recent history. We are obsessed by it. It dominates and rules our lives, whether we have it or not. We cannot do anything without it. The numbers that are banded around are astronomical - we have almost lost touch with money as a real thing. The gap between the richest and the poorest is ever growing yet money is central to all of our day to day lives. It represents all the material goods that have become so central to us. Money is universal.

How long did it take to make? Please talk us through the process?
The piece took four months. I rolled out the porcelain, then cut the flower and leaf shapes. These were then cleaned up (fettled) when dry and biscuit-fired to 1000ºC. They were then glazed, cleaned up and re-fired to 1260ºC. The decals were cut and applied to the porcelain pieces and fired again to around 840ºC. The enamelled wire was twisted and then cut to length and bent, before being attached to the flowers using epoxy putty. When all of this was done 9000 times, the the flowers were finally fixed in resin and attached to the mirror.

The viewer becomes part of the work when they look in the mirror. How does it make you, yourself feel when you look at your reflection in it?
The mirror surface is distorted so your reflection becomes a little like the house of mirrors in a circus. You can never catch your full real reflection. It is always moving; it makes the piece alive. It is beautiful yet vulgar. I like the beauty of the actual money but iwhat it represents is all that is bad in this world. So I feel these emotions when looking at it.

What can we expect from you next?
Having developed this way of working, I want to explore the possibilities, in the near future using similar forms but further down the line with other applications. I have an exhibition in April at David Gill Galleries, Mayfair, where the results of this new work will be exhibited.