Light box: a fresh perspective on Santiago Barberi Gonzalez's marvel-filled Wunderkammer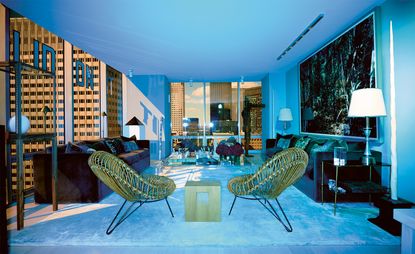 (Image credit: François Dischinger)
Wallpaper* Newsletter
Receive our daily digest of inspiration, escapism and design stories from around the world direct to your inbox
Thank you for signing up to Wallpaper. You will receive a verification email shortly.
There was a problem. Please refresh the page and try again.
In the rarefied world of crocodile-skin handbags, Santiago Barberi Gonzalez is king. There's no happier place for him than the floor of a Nancy Gonzalez shop, selling uppercrust consumers his mother's designs for women – or doing the same in one of his own boutiques for men. His private domain is another story.

Few have crossed the threshold of his pied-à-terre in New York, a one-bedroom eyrie on Fifth Avenue in Midtown Manhattan. In this modestly scaled, richly imagined place, the Colombian-born accessories tycoon devotes himself to art. It speaks to him like family from every wall, ceiling, floor and window, even the bathrooms and closets. To Barberi Gonzalez, the works also conduct a visual conversation with each other – and with the city beyond his several glass walls.

In the open space that joins his living and dining areas, floor-to-ceiling windows on two sides make it hard to tell where the outside ends and the apartment begins. Skyscrapers and sculptures constantly seem to trade places amid an astonishing number of paintings, photographs, drawings and other curiosities. Strips of LEDs recessed in the ceiling each cast a different shade of white light on individual artworks. At night, he says, 'This apartment is magnificent.'
Barberi Gonzalez has impeccable taste, in his Balmain or Dior Homme clothing, his décor, and his art. One of several works he owns by Joseph Kosuth is a yellow neon text that symbolises his personal aesthetic. It says, 'Neither appearance nor illusion', and is a brighter colour than anything else in the apartment, which has a palette that runs from white and silver to grey and black. Authenticity means more to him than market value. He's not after trophies. The art he buys is neither very flashy nor very large. He looks for seminal works, in perfect condition, by artists who make him think. And he never buys only one work by each. 'That,' he says, 'would be a souvenir.' As long as they're involved with language, numbers, codes, the passage of time or displacement, he'll be in pursuit.

'When I collect an artist,' he says, 'I do it cohesively and constantly. Nothing gets away.' He'll wait years for the right piece to come along and fill a hole that he feels diminishes his collection. 'I don't have a great John Baldessari,' he moans. 'It's a very big problem. If I have to pay triple for the right piece, then I will.'

Barberi Gonzalez says that his first year as a collector was an unmitigated disaster. He bought indiscriminately, a novice currying favour from dealers. In 2007, he read the autobiography of Count Giuseppe Panza di Biumo, whose legendary collection of postwar American art is now divided between the Guggenheim New York and MOCA in Los Angeles.

Through the concierge of the Four Seasons Milan, a hotel he frequents on business, the eager Barberi Gonzalez contacted Panza, who was charmed enough to give him two full days of mentoring. They changed his life. 'I learned everything from him,' says Barberi Gonzalez. After that, he didn't try going to galleries, auctions or art fairs alone. Through his family, and his business, he had the wherewithal to tap the talents of experts as consultants. One curator was Simon Castets, who worked with Barberi Gonzalez for four years before becoming director of the Swiss Institute in New York.

'Santiago is a very fast learner with an extravagant, ebullient personality, very driven,' says Castets. 'It wouldn't be unusual for him to sit in a gallery and talk about an artist for hours, and people remember that kind of commitment. He does a lot of research and thinks about things a long time, so every purchase is significant.'
Castets was with Barberi Gonzalez in 2010 on his first trip to China. When a 1960s video sculpture by Nam June Paik appeared at an art fair in Hong Kong, Barberi Gonzalez wanted it so badly that it gave him heartburn. 'When it hurts,' he says, holding his stomach in mock pain, 'I buy.'

Probably the most valuable piece in his apartment is the only black pyramid ever made by John McCracken, the American minimalist best known for lacquered monoliths. The pyramid sits on a plain white platform in front of windows where vinyl letters by Lawrence Weiner spell out 'A LID ON IT'. Also in front of those windows, which overlook the Rockefeller Center, is the sculpture The Head of Plato by James Lee Byars. 'I'm geared more by curiosity than taste or culture,' he says. 'Plato is the philosopher who posed the most questions, questions that never had answers. It's better to create questions. Who wants answers?'

Barberi Gonzalez left Cali, Colombia, for boarding school in America at 11 'for security reasons', he says. After earning an undergraduate degree at Babson College in Boston, he took a master's in art history and fashion marketing at the Savannah College of Art and Design in Georgia. His final thesis was his business plan for Nancy Gonzalez. In 1998, while he was still in school, that plan won him and his mother an order for handbags from Bergdorf Goodman. Since then, Barberi Gonzalez has built Nancy Gonzalez into a global enterprise. More recently, he opened a brand new Nancy Gonzalez shop at Harrods. Today, he's the public face of both companies.

What about his personal life? His work and his collecting habits keep him on the road so often that he's only in New York for 80-100 days a year. He doesn't socialise or go to private views at galleries, and doesn't join exclusive, curator-led tours of museums, either. Barberi Gonzalez prefers to walk with an audio guide. 'If I ever open a foundation,' he says, 'I would pay for all the audio guides in all the museums. It's so sad when I go to a show and it doesn't have one.'

Most of his free time is dedicated to researching the art and furniture he craves as much as sleep. Much of it is from the 1960s and 1970s, but he also buys work by younger, internationally known contemporary artists like Ugo Rondinone, Carol Bove, the Campana brothers and Elmgreen & Dragset. Twice a year he empties the apartment and brings in a whole new set from storage. 'The greatest luxury,' says the man who sells 'precious skin' bags for thousands of dollars apiece, 'is choice and versatility.'

Yet when I reach for one of eight unique wooden chairs surrounding an elliptical dining table with a lacquered goatskin top by Aldo Tura, Barberi Gonzalez says, 'Let's sit in here,' indicating two dark sofas from Carlos Mota in the living room. One is bookended by an exceedingly rare pair of 18th-century whale tusks. The dining chairs, he says, are Chinese and 2,000 years old.

He must be exaggerating, but that seems uncharacteristic for a man so fastidious that he orders his white Charvet shirts with the left cuff longer than the right to hide his typically large watch, and unlikely for a man with a fixation on time. In the living room, a small black canvas by On Kawara painted with the date, June10.2004 in white, corresponds, more or less telepathically, with photographs of timepieces by the Belgian conceptualist Kris Martin in the bedroom, opposite a black-and-white photograph of the sea made by Hiroshi Sugimoto using a super-long exposure.

The chairs actually date from the Qing dynasty, which lasted from 1644 to 1911. In 2007, artist Ai Weiwei brought them in a group of 1,001, with 1,001 Chinese people, to the 12th edition of Documenta, an international art show that occurs every five years. 'I wanted to buy them all,' Barberi Gonzalez says – a clue to the size of his ambition.

Not everyone living in a New York high-rise would have the guts to install a sculpture weighing nearly a ton as close to his Fifth Avenue windows as Barberi Gonzalez did with Antony Gormley's Butt, a rusted steel brick sculpture that suggests a burdened man contemplating a leap. 'It's kind of decrepit and sad,' he says. 'Sad' is a word he also uses to describe Topic, the word painted on faded burgundy fabric by Ed Ruscha. 'It's divino!' Barberi Gonzalez exclaims. 'The most elegant Ruscha, bleached and sad. It talks to me.'

As originally featured in the November 2016 issue of Wallpaper* (W*212)
INFORMATION
For more information, visit Santiago Gonzalez's website
Receive our daily digest of inspiration, escapism and design stories from around the world direct to your inbox