Light and splendour: the awe and wonder of Anila Quayyum Agha's dazzling new work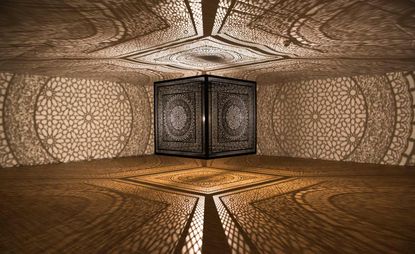 (Image credit: TBC)
About five years ago artist Anila Quayyum Agha (opens in new tab) visited the Alhambra (opens in new tab), the Moorish palace and fortress in Granada, Spain built in 889 AD and expanded in the 11th century by emir Mohammed ben Al-Ahmar. Agha noticed how visitors responded to the beautiful, intricate Moorish patterns within the structure. 'I was fascinated by the awe that people were showing me on their faces and I thought, "I'd like to make this thing happen in the US,"' says Agha.

Agha took her idea and layered it with her own experience as a woman of being denied access to the mosques in her native Pakistan. 'It was my experience of being excluded that made me think, "how do you make people realise that when you exclude somebody it causes issues?"' she says. Agha returned to her studio in Indianapolis, where she teaches drawing at the Herron School of Art and Design, and began to cut patterns like the ones she had seen at the Alhambra. What she created was 'Intersections', a large-scale shadow box comprised of Moorish patterns, suspended in the middle of a room. A light in the centre of the cube casts the patterns' shadows across the space.

'Intersections' went on to win $300,000 for both the public and jury prize at the ArtPrize (opens in new tab) competition in Grand Rapids, Michigan last autumn. The installation made its debut this week at Dallas Contemporary (opens in new tab) in conjunction with Dallas Arts Week, and is on view (opens in new tab) until 23 August to mark the inaugural ArtPrize competition in Dallas next year.

'Intersections' touches on several issues - gender, religion and authenticity - and the result is a beautiful and thought-provoking piece. Judging by the looks on people's faces, Agha has discovered a way to recreate that same wonder and awe she saw at the Alhambra.
ADDRESS
161 Glass St
Dallas
TX 75207
United States