Laurent Grasso confronts our post-Anthropocene world on film in Shanghai
The French artist's, Artificialis, recently dominated the nave of the Musée d'Orsay, Paris. Now, as the Centre Pompidou takes the project to Shanghai's West Bund Museum, we revisit our interview with the artist from December 2020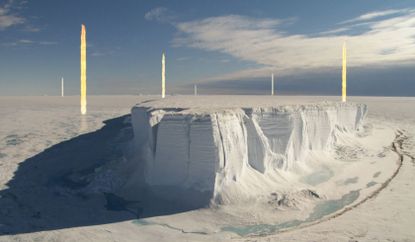 (Image credit: © Studio Laurent Grasso, courtesy Perrotin)
The Musée d'Orsay may specialise in the art of the 19th and early 20th centuries, but from now until early May 2021, its most prominently featured artwork will be a contemporary video piece. Displayed at the back of the main nave, on a giant screen that stretches between two towers, is Laurent Grasso's film Artificialis, commissioned for the new exhibition 'The Origins of the World: The Invention of Nature in the 19th Century'.

Grasso is the second contemporary artist ever to be taking over this prime position (following Glenn Ligon, who created a neon installation Some Black Parisians for last year's exhibition 'Black Models: From Géricault to Matisse'), and so the themes of Artificialis are suitably ambitious. He takes as his starting point the scientific advances of the 19th century, the quest to better understand nature, and the ways in which this informed cultural and artistic developments.

'The 19th century is a period that greatly interests me,' says the French artist, whose work is replete with historical references. 'It was a period when science represented a promise of change and generated optimism and hope, with very powerful imaginary notions. It was also a moment when poetic and dreamlike things could still be found in the scientific domain.'
In contrast, Grasso considers our present moment to be lacking in creative possibilities. In a hyperconnected world that has been mapped by satellites, where space and time have been compressed by technology, exoticism no longer seems to have a place.

His artwork for Musee d'Orsay, therefore, is an attempt to reignite that sense of possibility. After a lot of research into the museum's collections, he decided to turn to film, his main medium. He would 'install a kind of machine in the nave: an emitter of a light signal that acts on the spectator and makes the whole space of the nave resonate, which would somewhat replicate the scale of certain large paintings in the museum.'

From environmental historian Grégory Quenet (who had collaborated with Grasso for the latter's history of disaster project in 2014), the artist learned about the new frontiers of scientific research such as geoengineering, the climate emergency, and the idea of the post-Anthropocene. It inspired him to come up with a list of places he would like to go and film: 'Lake Baikal, Yellowstone, Greenland, Svalbard, specific deserts, some islands in Asia.' Alas, the lockdown meant that Grasso was grounded in France, and so he shifted gears to virtual exploration via collected video footage.
The film eventually became a collage of collected moving images, that would collectively blur the distinction between the natural and the artificial. There are visions of natural splendour: aurora borealis, polar and arid landscapes, flocks of birds and herds of caribou, visualisations of pristine forests. There are images of technological triumphs, among them an oil rig, an icebreaker ship, a solar farm, and the Arecibo telescope (which unfortunately has since collapsed), representing the drive towards extraction and exploration. These are mixed with images of despair: burning forests and barren landscapes, our planet mutating in the wake of manmade disasters. And then there are CGI generated evocations of the supernatural – a cluster of glowing matter traversing the Earth, and polar ice cracking to reveal an otherworldly glow underneath.

'There is not necessarily a documentarian determination to focus on a site and its history, but rather to show a collage that evokes the question of exploration as it could be envisaged today,' explains Grasso.
The film reveals a particular fascination with Lidar scanners, which can generate precise, three-dimensional information about the surface of the Earth. 'The human mind is not yet used to these images, in the same way aerial films were unfamiliar in the early history of cinema,' he muses. 'Films made with Lidar technology make us see a new world in a new light, in 3D, with the possibility of navigating from the interior.'

And though Artificialis is primarily a feast for the eyes, Grasso has devoted careful attention to the soundtrack, which he entrusted to composer Warren Ellis. They first collaborated virtually, then in person. 'The idea of having multiple musical universes in the film gradually took shape,' says Grasso. The resulting music alternates from magnificent to meditative and disconcerting, mirroring the ever-changing visuals.

All this makes for an intricate artwork that offers Musee d'Orsay visitors ample reason to linger in the nave to take in the entire 27 minutes. Grasso eloquently sounds the alarm that human beings are reaching a tipping point, where the changes we impose on nature can no longer be reversed, plunging us into an uncertain future. There are complex thoughts to disentangle, and lessons to digest.

'But it's also a rather simple idea,' sums up the artist, 'I want to bring a spirit of enchantment back to the museum once again.'
INFORMATION
Artificialis (originally on show at Musee d'Orsay), will now be on view until 10 October 2021 at West Bund Museum, Shanghai.
westbund.com
centrepompidou.fr
musee-orsay.fr
perrotin.com
ADDRESS
2600 Longteng Avenue
Xuhui District, Shanghai
VIEW GOOGLE MAPS (opens in new tab)
TF has been editor of Wallpaper* since December 2020. He is responsible for our monthly print magazine, planning, commissioning, editing and writing long-lead content across all our content pillars. He also plays a leading role in multi-channel editorial franchises, such as our annual Design Awards, Guest Editor takeovers and Next Generation series. He aims to create world-class, visually-driven content while championing diversity, international representation and social impact. TF joined Wallpaper* as an intern in January 2013, and served as its commissioning editor from 2017-20, winning a 30 under 30 New Talent Award from the Professional Publishers' Association. Born and raised in Hong Kong, he holds an undergraduate degree in history from Princeton University.