Latin dealer duo: Cristina Grajales and Leon Tovar's joint NoMad gallery space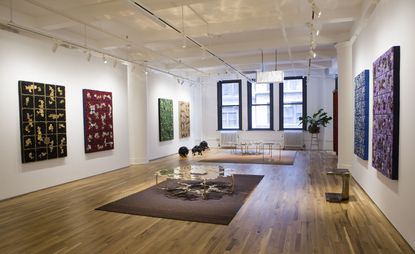 (Image credit: press)
Veteran design dealer Cristina Grajales (opens in new tab) and Latin American art specialist Leon Tovar have joined hands in a new venture, which is based in New York's trendy NoMad. Their 6,000 sq ft premises constitutes a new business model in that each has their own dedicated gallery as well as a joint space set aside to curate groundbreaking exhibitions.

'We wanted to highlight the great Latin American Modernist artists along with the best of both seasoned and contemporary design,' says Grajales, who like Tovar is Columbian. No less than Jorge Lizarazo, who previously worked with the acclaimed Santiago Calatrava designed the sun-flooded loft.

On view is a compelling exhibition staged by Tovar, which throws into focus the Modernist riveted steel sculpture of the late Columbian Edgar Negret. Heavily influenced by Louise Nevelson, Negret's convoluted creations led the New York Times to dub him 'Sculptor for the Space Age' in 1972.

Front and centre in their shared space is Marisol's 1981 monolithic bronze Picasso who is seated in a chair. 'It's really a conceptual work and speaks of the journey of life,' explains Grajales.

Especially captivating is a new design by Stefan Bishop. For his 2015 Magnus Opus in solid bronze, Bishop turned to the shapes of puddles for inspiration in designing a coffee table just over five feet across. Then the designer's walnut Console, which is composed of a series of intersecting, planes also straddles both design and sculpture.

'We're at a point where entire new audiences are discovering the artistry of Latin American modernism along with contemporary design,' says Grajales.
INFORMATION
'Edgar Negret: the Bridge' with Leon Tovar and 'Stefan Bishop & Steven and William Ladd' with Cristina Grajales are on show until 25 November
ADDRESS
Cristina Grajales Gallery
Leon Tovar Gallery
152 West 25th Street, 3rd floor
New York, NY 10001