Shadow play: Koto Bolofo on fantasy, fashion, and his first show in the Netherlands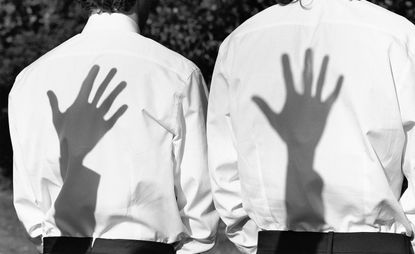 (Image credit: Koto Bolofo)
'I love using the word "photograph" instead of "image" ... image for me is disposable,' says photographer Koto Bolofo, who has just launched his first solo exhibition in the Netherlands at Amsterdam's Kahmann Gallery.

The scene he operates in has changed significantly since he came to London in the early 1960s, a political refugee from apartheid South Africa. Inspired by the visual culture of the swinging days of capital, it was in the 1980s that Bolofo really started to break through, shooting editorials for Vanity Fair, Vogue and GQ and campaigns for Hermès, Dior and Louis Vuitton, publishing several photobooks and spending two years documenting his hero, Lord Snowdon.

Yet Bolofo's work was never strictly tied to fashion. As the title of his first exhibition in the Netherlands suggests, he's a visionary who has spent 30 years stepping between the boundaries of his medium. The earliest photograph included in 'Between Black and White' was shot in Capri in 1986, and depicts a young Catherina Presser in a translucent silk nightdress: combining eroticism, fantasy and fashion. Bolofo recalls the shoot: 'I claim I was the first one to wet a silk nightie with a bucket of water which clung to her body revealing her nude body in a gentle way. At the time it was daring... and hey! The Italians published the image.'
It's typical of the frisson in Bolofo's images, whether he's shooting men or women. Rather than simply showing up and capturing his subjects, the photographer is known for spending time getting to know them first. 'His intimacy with his subjects is something you really feel in his work; he works hard to make a connection with his subjects to get to a level of ease and total openness,' explains Willemijn van der Zwaan, director of Kahmann. 'You see it in the books he makes, like Dreams and Venus: there is an extraordinary level of trust between photographer and subject.'

A regular contributor to Wallpaper*, Bolofo is also known for his use of natural light, something which arguably takes skill and precision that's been largely lost in today's tech-dependent era. 'Our pace was definitely slower and precise in what one did,' Bolofo concedes. 'Like a good vintage wine from a glass bottle; not a carton and easily disposable.'

It's not easy to be timeless when you work with a time-based medium like photography, but the exhibition highlights — through different series and books, including commissioned work and artistic projects — how Bolofo has consistently produced iconic images that are absent of the markers of time. Examples of this range from his audacious minimalism in the 1990s, to his striking introduction of colour in Black Beauty (2008), and Heat (2008), in which bodies are treated for their formal qualities, sculptural and sublime.
INFORMATION
'Between Black and White' is on view until 1 July. For more information, visit the Kahmann Gallery website
ADDRESS
Kahmann Gallery
Lindengracht 35
1015 KB Amsterdam
Receive our daily digest of inspiration, escapism and design stories from around the world direct to your inbox
Charlotte Jansen is a journalist and the author of two books on photography, Girl on Girl (2017) and Photography Now (2021). She is commissioning editor at Elephant magazine and has written on contemporary art and culture for The Guardian, the Financial Times, ELLE, the British Journal of Photography, Frieze and Artsy. Jansen is also presenter of Dior Talks podcast series, The Female Gaze.
With contributions from