KAWS' colossal cartoon sculptures loom large at Yorkshire Sculpture Park
New York artist KAWS' colossal cartoon sculptures loom large at Yorkshire Sculpture Park in his first UK museum show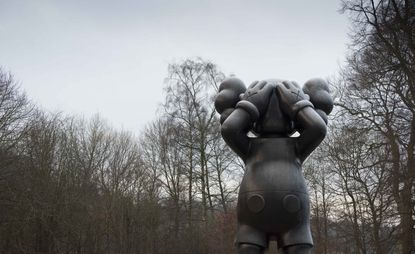 (Image credit: Jonty Wilde)
What on earth are KAWS' giant, clumsy-footed, cross-eyed cartoons doing lolloping across the Yorkshire hills? You might wonder what some of the comments were like at the Yorkshire Sculpture Park this week as they erected the works of Brian Donnelly, towering up to 10 metres high, alongside works by major twentieth century artists such as Anthony Caro.

The six outdoor sculptures of New York's graffiti provocateur turned popular sculptor are endearingly animated – one bashful, one shameful, another pulling his nose off, two conspirators banding together. We are as confused to be here as you are to see us, they seem to say. Read in them what you will, but early visitors to the art centre on Wednesday seemed unanimously delighted, laughing joyfully with surprise to be dwarfed like tiny children at this surreal teddy bears' picnic.

Donnelly's iconography has always reached people, ever since he first made his name as a rebel adapting adverts and billboards in the streets of New York. His cartoonish characters are derived from his early street work in the 1990s, Donnelly told me. 'I've basically boiled down what I was doing to its most identifiable points. The cross-eyes came from when I was painting over icons on billboards. The "X" was such a strong form. I also painted skull and crossbones and that has become so stylised over the years that it has just become those big fluffy things.'

But he shrugs off any notion that art should have labels and categories, which determine where and how it should be seen. 'The thought of someone coming out here and seeing this as street art is just, well, sad,' he said.

This distinction between what belongs on the street, and what belongs in a 'high art' gallery context has been ridiculed by Banksy for years. The trajectory of 41-year-old KAWS reflects the gradual smouldering of street, pop, commercial and public art.

As a student of fine art, he admired the work of Claes Oldenburg and Keith Haring. He was interested in sculpture but found it 'inaccessible'. Instead he began to pursue his interest in the medium by making edition toys, collectables of the kind that he encountered in Japan. Success led him to explore his avatars on a larger scale, and eventually to dwarf cities with them, from Hong Kong and Amsterdam, to New York and London.

A gallery exhibition of his work runs alongside the outdoor show. It's a heady world, where juvenile fantasy, urban labels, and the sugar-fuelled cartoon slacker world meet the big-bucks bombast of the art world. It sounds complex, but really it's an invitation to make friends.
INFORMATION
'KAWS' runs from 6 February until 12 June 2016. For more information, visit the Yorkshire Sculpture Park website
ADDRESS
Yorkshire Sculpture Park
West Bretton
Wakefield WF4 4LG
Receive our daily digest of inspiration, escapism and design stories from around the world direct to your inbox