'World on Wire': Julia Stoschek presents her video art collection in Berlin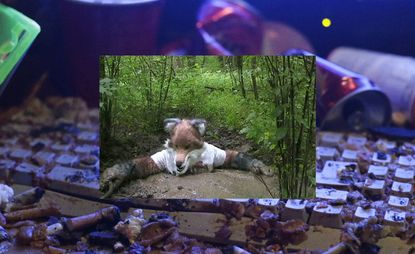 (Image credit: Courtesy the Julia Stoschek and Future Gallery, Berlin)
If you hadn't already realised it, video art has changed dramatically in the past ten years. A talented young generation of artists has arrived and with them a sophisticated new language for exploring the mish-mash of images, intrigues, desires, fears and ironies that the online world has exposed them to. They take to an editing suite as if it were an extension of their own bodies. And the most brilliant of them, artists like Ed Atkins and Rachel Rose, and socially-minded groups like K-Hole, have come up with some darkly reflective, funny, uncompromising work.

There are many problems with showing this kind of work still. It is difficult and expensive – all video artists require different kinds of screens and environments, good sound, brilliant curators and technicians. What's more, it needs savvy young like-minded collectors and galleries willing to be generous to their audiences, to select the gems from the mass of pretentious rubbish, and to give this challenging work space, so that people devote the time (sometimes hours) needed to watch it and understand it.

Enter then Julia Stoschek, daughter of the car manufacturing billionaire Michael Stoschek. Aged just 41, she's been collecting video and performance art since she was in her twenties. Her space in Dusseldorf, which has offered regular exhibitions free to the public since 2007 – including solo shows for artists like Elizabeth Price, Sturtevant and Wu Tsang – has been well received in Dusseldorf and the art world.

This week she brings a similar gift to Berlin, an absolutely of-the-moment exhibition presenting 38 art works by 20 artists who she perceives as stars at the forefront of the digital video age movement. It's all housed in the 1960s former Czech cultural centre, transformed into a sort of futuristic lab-cum-theatre, decked with white curtains throughout. The best room is the wood-panelled 1960s movie theatre featuring a vast widescreen projection of Ian Cheng's 'live simulation', a frightening computer-game style action sequence unfolding randomly according to the artist-designed algorithm.

Down the corridor from Cheng's 2015 work, Cao Fei's 2007 RNB City feels wonderfully dated and naive, and makes a fascinating point of comparison – an island collaboratively grown with the inhabitants of Second Life, a gentle, curious, optimistic exploration of the many-hands-one-mind creativity of the open-platform universe.

Julia Stoschek has rented this Berlin space for six months, but she says she wants to create a permanent residence there. The collection surely deserves to stay. Devote time to this exhibition and you will leave with a disturbing yet profound sense that our perception of time, our way of being, is changing.
INFORMATION
'Welt am Draht' ('World on Wire') is on view until 18 September. For more information, visit the the Julia Stoschek Collection's website
ADDRESS
The Julia Stoschek Collection
Leipziger Strassse 60
10117 Berlin
Receive our daily digest of inspiration, escapism and design stories from around the world direct to your inbox