Jorge Pardo on the 'rustic' digital technique behind his laser-cut chandeliers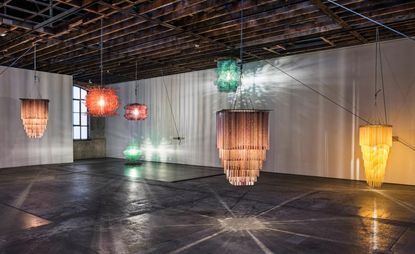 (Image credit: Jorge Pardo)
Wallpaper* Newsletter
Receive our daily digest of inspiration, escapism and design stories from around the world direct to your inbox
Thank you for signing up to Wallpaper. You will receive a verification email shortly.
There was a problem. Please refresh the page and try again.
Floating through the upper level of Victoria Miro gallery like a shoal of serene deep sea creatures are the latest works by renowned Mexico-based Cuban-American sculptor, Jorge Pardo. 'I don't do chandeliers very often, and I wanted to see what came of making some,' states Pardo, surveying the colourful laser-cut plastic lamps that are set at different levels around the space.
Pardo, who is showing for the first time with the London gallery, has a refreshing matter-of-fact approach to his work. 'Shows generally do not really have a conceptual organising principle,' he explains. 'Sometimes they do, but most of the time they really don't. I don't like anecdotes – artists are not that smart,' he adds with a laugh.
Made from hundreds of pieces of recycled, laser-cut plastic carefully hung together to create soft glowing forms, the lamps were all developed and conceived digitally, made by hand in Pardo's Mérida studio by his 20-strong team, but designed simply to 'optimise an optic'. While some of the lights, when viewed from below, reveal surprising sinuous voids within their coral-like forms, others have a more rigid architectural geometry.
'I like working this way,' says Pardo of the 'rustic' digital technique that allows him to create the complex arrangements. 'Also you don't know what it's going to look like until you turn the light on, so it's an interesting process.' Downstairs, a series of screens made from intricately cut layers of wood have been flattened out and hung on the wall like canvases. 'These are paintings of existing three-dimensional screens,' says Pardo. 'We took pictures of the screens and put them into illustrator and then decided on the level of detail we wanted. It's nice to have something that's ordinarily on the ground go up on the wall.'
Layering the wood panels, laser cut with lines and circles, results in a moiré effect. From a distance they look a little like unusual animal skins; up close more like mind-boggling multicolored jigsaws. Painted by hand, each one features its own pattern made up of tiny blocks of colour. Pardo, who is based between Mérida and New York, has never been tied to one medium. His previous works have included everything from paintings to sculptures to furniture and even entire buildings. In 1998 he famously built a house (and designed all of its contents) as part of an exhibition for LA MoCA.
'Architects make buildings because they like buildings,' he states. 'I make buildings because I like exhibitions. I'm "showing" architecture, I'm not making architecture. It's a funny little switch, but it's important.' This is not to say that Pardo's buildings are not functional – he has built homes for his friends, the art collectors César and Mima Reyes, renovated a ruined estate an hour out of Mérida, created guesthouses in Denmark and is currently designing a hotel for Maja Hoffmann's LUMA foundation in Arles, France.
Pardo elaborates: 'They resemble and they function just like architecture in a sense, but I'm not an architect, we don't work like architects. The component of the object having a fiction in it is very important. When I say I think of it as an exhibition, it's a fictive art object. It's a fictive architectural object in an art context.
'I'm interested in how once things get skewed a bit, you kind of have these uncontrollable discourses that enter and try and consume it,' he concludes. 'For me everything is an exhibition.'
INFORMATION
'Jorge Pardo' is on view until 24 March. For more information, visit the Victoria Miro website
ADDRESS
Victoria Miro
16 Wharf Road
London N1 7RW
Receive our daily digest of inspiration, escapism and design stories from around the world direct to your inbox