Jenny Holzer's piercing beacons of truth light up Guggenheim Museum Bilbao
Curated by Petra Joos in collaboration with the artist, Holzer's largest survey to date highlights Frank Gehry's architecture through site-responsive installations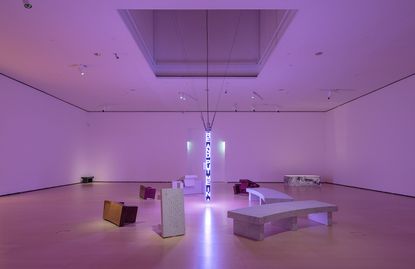 (Image credit: José Miguel Llano)
Jenny Holzer was 26 when she arrived in New York. The freshman art student at the Whitney Museum had grown up in Gallipolis, Ohio, a sleepy town in America's Midwest, and had spent her early twenties jumping from place to place in search of her artistic identity. She started out as an abstract expressionist. Then she tried to capture the human form at its most explicit. But she was frustrated; the themes that animated her – sexual and physical violence against women, systemic abuses of power, meditations of love, lust and longing – could not be properly evoked by her canvas.

A year after she arrived in New York, she discovered a way to use language and started to work on what remains possibly her best-known series. Truisms was at first a series of posters: 250 single-sentence declarations on brightly-coloured paper, wheat-pasted onto Manhattan's streets anonymously and often in the dead at night. Soon after arriving in the city, Holzer quickly became involved in Colab, a progressive downtown artist collective. There she began to associate with a new wave of explicitly feminist artists, names like Barbara Kruger, Cindy Sherman and Sarah Charlesworth.
Holzer worked on Truisms for two years. She would distill into one-liners the old, erudite texts from the reading list at the Whitney's Independent Study Program, where she was a student, and turn them into statements resembling a haiku – something between a bon mot and a confessional cry for help. She would isolate provocative phrases from the academic texts found in the library, re-associating them in a new sequence, imbuing them with a very modern and very radical minority mindset.

By 1979, those in the know were beginning to associate the thought-provoking posters as the work of the young, comparatively shy woman from Ohio. This was a new, public-based and powerfully activist style of visual art. Street artists like Jean-Michel Basquiat, Richard Hambelton and Keith Haring had not yet been swallowed up by the established art world, while punk was animating youth culture, with the Ramones, New York Dolls and the Heartbreakers a fixture in Manhattan's dive bars. Standing in the Guggenheim today, that era seems fused into Holzer's persona, with the 68-year-old resplendent in Converse and an army surplus jacket, her hair falling almost to her waist.

And yet, while punk and street art places in opposition to the mainstream, Holzer showed an ability to take it down from the inside. In late 1980, some of Holzer's street art was included in the exhibition 'Social Strategies by Women Artists' at London's Institute of Contemporary Arts. Two years later, in 1981, she was exhibiting on the electronic billboards of Times Square. She talks today of 'switching the messages' of advertising. 'It's useful for people to see a message in the street that isn't advertising, but perhaps has some real importance.'
With the help of the Public Art Fund programme, Holzer used the light-emitting diodes (LEDs) on the Spectacolor board of Times Square to take Truisms to the millions who move through one of the iconic commercial districts of the world – a dazzling light-show of advertising and commerce. One of Holzer's the most iconic statements – Protect Me From What I Want – was beamed out across New York. Associated phrases also shown have had a comparably long shelf-life. Raise Boys and Girls the Same Way, another Holzer phrase, became a rallying cry for the LGBT rights protests in the US, while Abuse of Power Comes As No Surprise was used as a point of reference for the #metoo movement.

Now, Truisms is visible in one of the early rooms of 'Thing, Indescribable', a quite jaw-dropping retrospective of Holzer's work at the Guggenheim Bilbao, Spain, and which includes never-seen-before 'site-responsive' installations built especially to respond to Frank Gehry's architectural creation.

I ask Holzer at the opening of the event about the use of her work by the #metoo movement, and how she feels about the ongoing fight for women's rights when a self-avowed abuser of women sits in the Oval Office. 'The women are going to win this one, and Trump is going to go away. It's just not happening fast enough,' she tells me. You have no doubt, I ask. 'No, no, no – the women are not going to go back into the back of the cave. I think he's most inspirational in this department,' says Holzer. 'Because if it wasn't clear before, it is now. He's tangential [to the women's movement]. But it's good to have something useful from him.'
RELATED STORY
Jenny Holzer in her Brooklyn studio with works in progress.
Holzer has a long association with the Spanish city's iconic gallery, which last year hosted four of the 20 most-seen exhibitions in the world. In the atrium of the building, visitors still trace their way trough the original installation built by Holzer for the opening of the exhibition in 1997. The art work is made up of nine luminous columns, each more than 12m high. Last year, Holzer gifted to the museum a set of engraved stone benches, many of which have been repurposed for this exhibition.

'Thing, Indescribable' demonstrates the diverse ways in which Holzer is able to harness different media to present and distribute her texts, from the monumental to the everyday, the highbrow to the lowbrow. It could be a chunk of marble, a canvas, a gleaming, colourful LED display – or a condom.
Holzer is now based in Hoosick Falls, a tiny village-like commune near the Green Mountain national park in upstate New York. By her own admission, she barely leaves the place. As she's grown older, she's become more focused on finding and appropriating the words of others, rather than forming phrases of her own. At the same time, her work has become more sculptural, more experiential. Rather than a poster, we now enter a cavernous space.

In a vaulted, curved room of the Guggenheim Bilbao, we witness hanging from the ceiling an installation titled Sworn Statement. In 2004, the United States Army Criminal Investigation Command (USACIDC) launched an inquiry after reports of abuse at Afghanistan's Gardez Fire Base were brought to light in the American media. Afghan detainees, witnesses, doctors and American soldiers at Gardez and other facilities were interviewed. Yet the USACIDC investigators ultimately accepted the US soldiers' denials, and ruled no abuse had taken place. Holzer has taken testimonials from the investigators' reports and placed them in this huge LED installation, asking us to form our own judgement on how and if someone could invent experiences of abuse like this.

In the adjoining room we come across Ram, an LED sign measuring over seven metres long and attached to a robotic system which draws the work back and forth across the floor of the gallery. Words scroll along each face of the sign at varying speeds. We witness the text periodically flashing, blacking out, and breaking into rainbow spectrums that cast a toxic glow on the surrounding floor. The differing speeds evoke speech patterns, which Holzer describes as the kinetic equivalent to inflection in the voice'.
Ram holds a selection of poems from the Polish poet Anna Świrszczyńska, who joined the Warsaw Uprising during the Second World War. She wrote about her experience 30 years later, publishing her cycle of 100 poems in 1974. Surrounding both Ram and Sworn Statement are piles of human bones. Inside the next room, two stone sarcophagi, one made from red Ankara marble and the other from Nubian black granite, feature sections of Holzer's text Laments (1989). Written at the height of the AIDS epidemic, Holzer wrote in the first-person to chronicle the voices of unknown and unnamed victims to the epidemic – men, women and children.

Finally, we witness another new LED installation. Titled I Woke Up Naked, the work explores first-hand testimonies from survivors of sexual assault and rape. They're such massive, almost overwhelming works of art that it might be easy to forget how deep and personal they are to Holzer. But, speaking at the launch, Holzer gives an insight into her own experiences of post-natal depression – a reminder that the ongoing battle for feminine equality remains anything but an abstract issue.

'When I had my daughter, I had to come out in a different way to be right for her,' Holzer says. 'It took me about six years to be where I should have been when she was born. That involves tenderness and an ability to give something sustaining. 'She's not as weird as I am now, so it was a little victory, I guess.'
INFORMATION
'Jenny Holzer: Thing Indescribable' is on view until 9 September. For more information, visit the Guggenheim Museum Bilbao website
ADDRESS
Guggenheim Museum Bilbao
Avenida Abandoibarra, 2
48009 Bilbao
Receive our daily digest of inspiration, escapism and design stories from around the world direct to your inbox