Jean-Michel Othoniel's gold-leaf glass sculptures herald a renaissance at the gardens of Versailles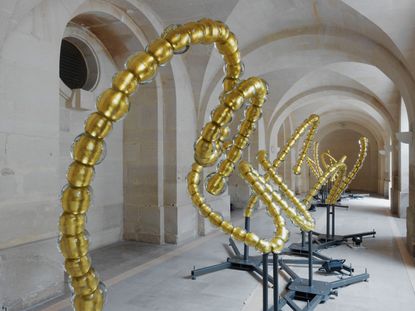 (Image credit: Philippe Chancel)
Wallpaper* Newsletter
Receive our daily digest of inspiration, escapism and design stories from around the world direct to your inbox
Thank you for signing up to Wallpaper. You will receive a verification email shortly.
There was a problem. Please refresh the page and try again.
This month Louis XIV dances once again in the gardens of Versailles. In artist Jean-Michel Othoniel's three-part Les Belles Danses, water-spouting strings of gold-leaf in glass bubbles follow carefully choreographed skips, leaps and glides across three reflecting pools, inspired by ballets danced by Louis XIV. The installation, the first new permanent art created for Versailles in three centuries, marks the revival of the garden's Water Theatre grove.

The sculptures are individually tagged 'The Entrance of Apollo', 'The Rigadoun of Peace' and the 'Bourée of Achilles'. After spending much of this year working out of the palace's former apothecary, Othoniel will finish the installation this month and preview the spectacle during FIAC in October, before a grand opening next May.

The piece is based on an obscure dance annotation system developed for Louis XIV by Roger-Auger Feuillet in 1701. In a curious case of artistic synchronicity, Feuillet's startlingly modern-looking hieroglyphs were also recently rediscovered by British photographer Tessa Traeger. (You can read about how she employed them in our October issue, W*187.)

Versailles' Water Theatre grove, a setting for outdoor concerts, ballets and plays, was originally designed by Louis XIV's favoured landscape architect André Le Notre, working with the painter Charles Le Brun, and created between 1671 and 1674. It was destroyed by Louis XVI to make way for lawns and then again, and more emphatically, by the great storm of 1999.

In 2011, the Versailles estate decided it would remodel the garden and launched a competition to find a new design. Othoniel was approached by landscape designer Louis Benech, who had helped give Paris' Tuileries a facelift in the early 1990s, to join him in entering a competition.

Othoniel had experience working in the grandest of historical settings: he'd hung massive glass necklaces in the garden of the Villa Medici in Rome and installed works in the trees of the Peggy Guggenheim Collection's Venetian garden; in the Alhambra gardens in Granada; in the Mesopotamian room at the Louvre; and near the Palais-Royal. The Othoniel/Benech collaborative entry was also the only one to echo the landscaper/artist combination of the 17th century, and beat 140 competitors.

For the past two decades, Othoniel has been working with the world's finest glass blowers: in Murano in Venice, Monterrey in Mexico, Sapporo in Japan and Firozabad in India. And once he had hit upon Feuillet's annotation system, he turned to glass blowers in Murano and Basel to produce 1,750 gilded glass balls to use in his sculptures. To realize his vision, he worked with the fountain engineers of Versailles.

We talked to Othoniel about his new work and connecting with the dancing King...

W*: How did you work with Louis Benech? You hadn't worked together before?
Jean-Michel Othoniel: No, he approached me and I didn't know him, nor was I really even aware of him. But he had seen something of mine at the Pompidou. He had designed the garden stages and he asked me to work on a sculptural element, like Le Notre and Le Brun.

What condition where the gardens in before you started work?
It was a totally wild space. It had been destroyed by the storm in 1999, but it had been already destroyed by Louis XVI. It was totally overgrown and closed off to the public. It was used to store fireworks for events.

Was it hard to imagine what they had once been and what they could become?
I really wanted to link the project to Louis XIV without it becoming pastiche. I read a lot of books about him and particularly about how he used the gardens and realised that it was very choreographed. It was about theatre and dance and display. And then I found the dance annotation.

And you knew instantly that was the idea you needed? That you really had something to work with?
Yes, it seemed very close to the embroidery patterns Le Notre had made; these mazes he produced with small flowers. And there was an obvious connection for me, back to my sculptures. When I saw the annotations, they were so close to the shapes I was using in my work. They were like something from my past life. I could put them in 3D, linked to the body in movement. It was a chance to do something conceptual. The annotation was about writing down movement in space, and in a way that is close to what I try to do with my sculpture.

And you had never seen the dance annotation system before?
No. And I had the chance to read the original in the Boston library when I was doing a residency there. People in ballet knew about it but no one in art knew about it. Graphically, it looks totally contemporary. And to me it seemed to connect to artists like Richard Long and his walking art. I have tried to bring something else to it, something sensual. And also create a place and space for contemplation, much more like the English garden than the formal French garden, a place for introspection and to be in nature.

You've been at work at the former apothecary in Versailles since the beginning of the year. What was that like?
It made the scale of the project even more clear, the location and how unique it was.
ADDRESS
Château de Versailles
Place d'Armes
78000 Versailles
Receive our daily digest of inspiration, escapism and design stories from around the world direct to your inbox