Marc Newson, Erdem and Don McCullin immortalised in hyperrealist paintings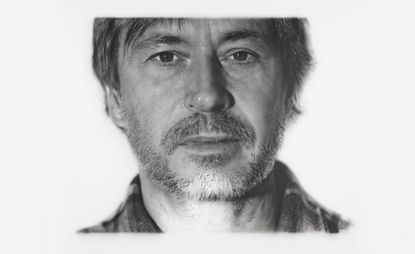 (Image credit: Courtesy of the artist and Marlborough Fine Art )
Marc Newson, Sir Don McCullin and Erdem Moralioglu were in for a shock, when Jason Brooks unveiled his latest realist portraits at Marlborough Fine Art in London. Having sat for hundreds of source photographs snapped by Brooks, and not been present while he painted the work, none of these percipient cultural figures had seen the finished, highly realistic results until opening night.

'Some people might be more enamoured than others,' laughed Brooks prior to the private view. The group of sitters – which also includes Tim Marlow, Will Self, Malcolm Venville and Sue Webster – are all friends of the painter, and were 'pleased – in varying degrees – to collaborate on the project'.

'I picked them because they each have a very discerning eye,' Brooks continues. Each figure, cropped tightly around the face, is hung at eye-level in the London gallery, so that 'the viewer becomes the subject – the paintings examine you.'

Even war-hardened photographer McCullin was 'a little alarmed' by what he'd come up against. 'It's nerve-wracking, as someone who usually does this to others, to be looked into so deeply,' he says. 'Obviously we are all only skin deep, but you know that with Jason's skill and application, he will discover the hidden depths and every detail of facial make up.'
Despite the piercing vision with which Brooks conducts his portraits, he made the atmosphere an engaging one for his sitters. 'It was actually enjoyable – we talked, joked around and had some pretty serious conversation too,' explains Newson. Fashion's Moralioglu enjoyed it to: 'It was fascinating to see Jason's work in progress,' he says. 'Sitting for a portrait is quite an intimate process and his attention to detail is almost forensic.'

It's this exhaustive descriptiveness that Brooks has become known for, and his paintings have often been compared to photographs in their dizzying detail and acute accuracy. But Brooks isn't keen on the word 'photographic', which could mean anything in today's visual language. Created from memory and source photography, the portraits are not intended to be an exact likeness, but an interpretation; a new form altogether.

'We live in an age where people are trying to airbrush out detail, I'm trying to airbrush it in,' he says of his visceral works. He intends for them to be seen up close and personal, not badly photographed by passers-by and posted on Instagram. 'Not that I'm knocking technology,' says Brooks, 'but I'm in the business of the tangible.'
Having such a cast of characters as subjects will now doubt get bodies through the door (who doesn't want a one-sided staring match with a larger-than-life Will Self?) – but, again, this isn't of particular interest to Brooks. His message is more cerebral, as the rest of the threefold exhibition attests.

Titled 'The Subject Is Not The Subject', the survey is not really about what he is depicting at all, but how. Brooks – a painter's painter – is interested in how a work can focus on one art object, and, via a journey of exploration, turn it into another.

For instance, one downstairs gallery boasts impressionistic landscapes inspired by amateur paintings, each named after a John Clare poem. The other holds an imposing 19th-century inspired bust, surrounded by devotional paintings. If you didn't know better, you'd think the gallery was presenting a group of artists, not one – an idea Will Self brilliantly repels in his accompanying essay The Object is not Objective.

Through his own, unique 'vocabularly of painting', Brooks asks us to think about how he paints – every technique and trick he uses. Whether a landscape, portrait or sculpture is in the frame, is not the point. So, what starts as entertaining magnifying glass turned upon the facial features of art-world celebrity, becomes an academic jostling on the language of painting, and then, an interrogration of 'representation' in general. Each segment is as complex, and pleasing, as the last.
INFORMATION
'Jason Brooks: The Subject Is Not The Subject' is on view until 10 March. For more information, visit the Marlborough Fine Art website (opens in new tab)
ADDRESS
Marlborough Fine Art
6 Albermarle Street
London W1S 4BY
VIEW GOOGLE MAPS (opens in new tab)
Elly Parsons is the Digital Editor of Wallpaper*, where she oversees Wallpaper.com and its social platforms. She has been with the brand since 2015 in various roles, spending time as digital writer – specialising in art, technology and contemporary culture – and as deputy digital editor. She was shortlisted for a PPA Award in 2017, has written extensively for many publications, and has contributed to three books. She is a guest lecturer in digital journalism at Goldsmiths University, London, where she also holds a masters degree in creative writing. Now, her main areas of expertise include content strategy, audience engagement, and social media.