In the frame: graphic designer Hans Hillmann's film posters go on show at Kemistry Gallery, London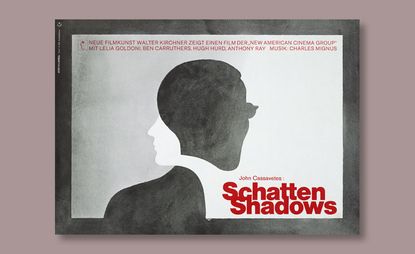 (Image credit: TBC)
Illustrator Hans Hillmann's film posters are set to draw new audiences decades after their release. The modernist graphic designer, who passed away this year in May, is being feted with the first UK showing of his work, opening today at London's Kemistry Gallery.

Born in 1925, Hillmann took up poster design in the fifties while he was still a student at the Werkakademie in Kassel. He described German theatres at the time as a 'cinematic desert'. Hillmann entered and won a number of film poster design competitions, attracting the attention of Neue Filmkunst, Germany's first major distributor of arthouse films.

The company started up its own cinemas and set Hillmann to task. Between 1953 and 1974 he designed 130 posters, crafting visuals for mostly foreign films such as Jean-Luc Godard's Breathless, Vsevolod Pudovkin's Storm over Asia and Akira Kurosawa's The Seven Samurai. The German designer collaborated with a niche roster of directors including Luis Buñuel, Federico Fellini, Ingmar Bergman, Jean Cocteau and Edgar Reitz.

Hillmann transformed the art of film advertising in Germany with his innovative style and Kemistry Gallery's new exhibition explores the full scope of his ouevre. (His work is often likened to graphic design legend Saul Bass - however it's disputed if the two were ever aware of each other's work at the time, although Hillmann was certainly inspired by his Polish counterparts Jan Lenica and Palka).

'In the 1950s his designs were very groundbreaking,' explains curator and film critic Isabel Stevens. 'His style varies so much so it was important to show this in the [exhibition's] selection; to include more illustrative, painterly designs as well as more minimalist designs, and those where he used photography.'

Hillmann demonstrated a chameleon-like ability throughout his career, constantly adopting new motifs and techniques. In the 1950s he used a painterly form of illustration, while throughout the sixties his designs increasingly included photography. His first photographic poster, for Robert Bresson's 1966 Pickpocket, featured a black and white image shot by Hillmann himself of his hand emerging ominously through a coat.

The graphic designer also played with abstraction, layering, ripped paper and - as film budgets increased - colour. 'Over the course of designing eight posters for Godard's films you can see Hillmann experimenting more and more with colour - some of them are really luminous,' adds Stevens.

Film posters today, often brimming with credits, logos and websites, are a departure from the striking minimalism that marked Hillmann's era. 'His most stark creations were for his poster for Battleship Potemkin and for some of his designs for Godard's films,' says Stevens. Hillmann's Potemkin poster was a daringly distilled interpretation of the iconic Russian propaganda film.

To complete the homage to Hillmann, both the Goethe-Institut and Institut Français in London are screening a selection of films that he designed posters for. The triple UK billing is a must-see tribute to the late illustrator, who changed the face of German cinema lobbies.
ADDRESS
43 Charlotte Rd
London EC2A 3PD