Hot stones: the Noguchi Museum stages its first group exhibition alongside Isamu Noguchi's work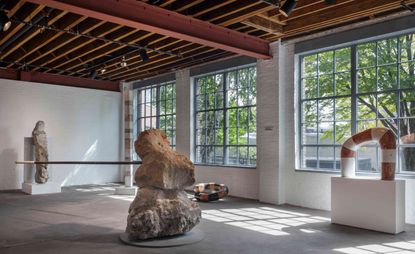 (Image credit: Elizabeth Felicella)
This year has turned out to be a prolific one for Isamu Noguchi, the American sculptor and designer who died nearly 30 years ago. A long-awaited collaboration with the Brooklyn Botanic Garden sets 15 of his sculptures around the garden's landscape, and a recent biography, Listening to Stone, by Hayden Herrera, documents his life and work in a gripping narrative.

But, as it was during his life, the real pièce de résistance comes at his studio in Queens, now known as the Noguchi Museum. Following an extensive renovation project and on the occasion of its 30th anniversary, the museum recently opened 'Museum of Stones,' an exhibition that explores the cultural implications of stone, the medium with which Noguchi is so closely associated.

For the first time in its history, the museum took the exhibition as an opportunity to integrate work from a roster of contemporary artists, including Scott Burton, Gabriel Orozco, Janine Antoni, Lawrence Weiner, Yoko Ono, and Tom Sachs. Curated in this way, the exhibition contextualizes Noguchi's work among other projects that work through the same material - even as it underscores the singularity of his work. By incorporating projects from the more recent past, curator Dakin Hart demonstrates the enduring questions about one of art's most fundamental media.

The show also reaches back in time - far back. Hart places a foundation stone from Jerusalem's fortification wall that dates from 41-70 C.E., for example, among works by Joseph Kosuth and Mariana Cook. Objects from the Qing dynasty, many on loan from the Metropolitan Museum of Art, get interspersed throughout the exhibition, adding yet another dimension to the reception of Noguchi's work.

On view through January 10, 2016, the exhibition is something to be seen multiple times, letting the work to be experienced in different qualities of light and weather.
INFORMATION
'Museum of Stones' will run until 10 January 2016
ADDRESS
Noguchi Museum (opens in new tab)
9-01 33rd Road
Queens, New York
VIEW GOOGLE MAPS (opens in new tab)