Home is where the art is: in Private Choice, a Parisian apartment doubles as a contemporary gallery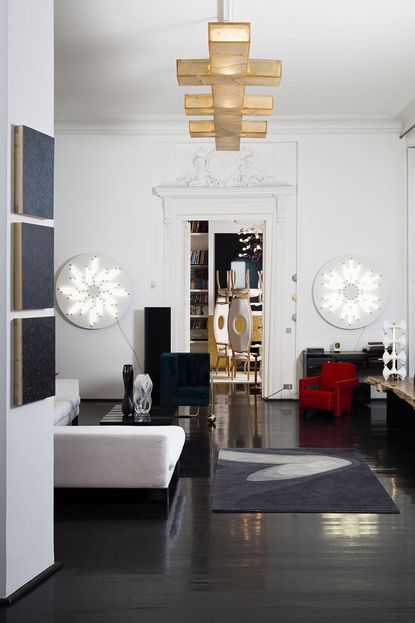 (Image credit: Théo Baulig)
If you happened to stop by the Private Choice preview (opens in new tab) cocktail in Paris on Saturday night, you would have had a hard time believing the apartment was actually a giant mise en scène. And the cinematic comparison makes a nifty double entendre; more than a century ago, the family of film maverick George Méliès occupied this building, adjacent to the city's garment district (his father was a successful bootmaker).

As a follow-up to last year's impressive staging – like this one, coinciding with the international contemporary art fair Fiac – Private Choice founder and project director Nadia Candet has asserted her curatorial taste on a residential space where a wide variety of artworks, furniture and design objects come together as a unified whole. Minus the Le Corbusier staircase, the lustrous Andrée Puttman light fixture and a few other pieces drilled into walls, everything is available for purchase. And yes, this includes the site-specific Felice Varini geometric perspective (opens in new tab) painting that will be custom re-created for the prospective buyer (at €50,000, it also happens to be the priciest item).

Candet has arranged the work in inspired juxtapositions: César fingerprint gold and platinum-accented china with Patrick Jouin for Puiforcat silverware (opens in new tab); Zaha Hadid's vases for Lalique within arm's reach from Sacha Walchkoff's teal astrakhan armchair for Pouenat. Connecting several pieces is a subtle theme of orientation. Above the upper-level entryway, for instance, Melik Ohanian (opens in new tab)'s neon art sign flashes '(T)HERE'. An 'X' marks the centre of Claude Closky's 'Ici [Here]' carpet in the library, positioned beneath Didier Faustino's 'Threesome Where' seating sculpture.

The inaugural edition showcased established and emerging artists separately, said Candet during an early walk-through. This year the integration makes a noticeable difference – particularly in the way people interact with the space. Some mingled around the Valentin Loellmann dining-room seating, as if in a home environment; others peeked intently into the bathroom to watch video art screened onto the turquoise wall. What they saw: a young duo that goes by the name None Futbol Club (opens in new tab) affixing 'Just Married' signage and tin cans to the back of a public bus.

The projection might have been smaller than the vanity mirror, but the effect underscored that this was no ordinary house. Like in a gallery, several pieces had already been marked by red dots.