Groundwork: Daniel de Paula showcases collection of rock samples in São Paulo
Art and architecture converge in a new site-specific installation of sedimentary rock samples at São Paulo's Galeria Leme.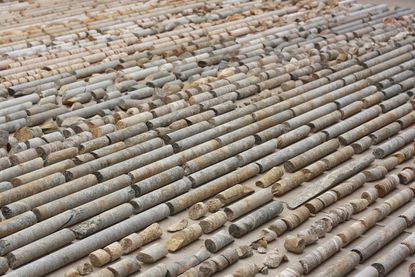 (Image credit: Filipe Berndt)
While some collectors are content with amassing stamp and coin collections, others, such as Brazilian artist Daniel de Paula, look for something a little more unusual to satisfy their collecting craving. Gathered from geotechnical surveys taken across São Paulo, de Paula has built up a staggeringly large collection of rock core samples.

Opened last month and on view until the end of the year in the grounds of São Paulo's Galeria Leme, testemunho ('testimony') is a new public artwork curated by Bruno de Almeida that sees de Paula's samples gathered together and organised chronologically according to their geological age. The drilled, cylindrical samples, used to determine subsoil properties in civil engineering, are composed of layers of sediment that have been built up over millennia.

'The artist contrasts the geological time of the gradual formation of the earth's crust, to the time of construction and expansion of cities,' explains the gallery. 'Conjoining two divergent perceptions of soil, one guided by its symbolic value and another instituted by the negotiation and exchange value.'
Testemunho is the second site-specific installation commissioned by Situ, Galeria Leme's artistic research platform that every few months invites a Latin American artist to create an intervention within the external spaces of Galeria Leme that explores the dialogue between art, architecture and city. Before Daniel de Paula, Situ worked with José Carlos Martinat, who scattered tax receipts printed with statistical information on the costs and revenues of the state of São Paulo across the gallery's grounds.
INFORMATION
Website
testemunho is on view until 19 December
Photography: Filipe Berndt
ADDRESS
Galeria Leme
Av. Valdemar Ferreira, 130
CEP: 05501-000
São Paulo
VIEW GOOGLE MAPS (opens in new tab)