Galeria Nara Roesler: Brazilian art gallery launches its first New York outpost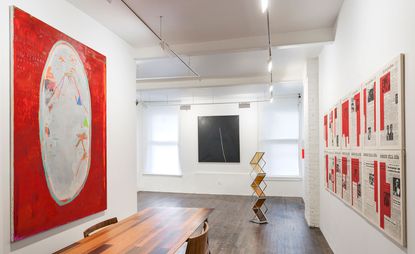 (Image credit: Adam Reich)
Galeria Nara Roesler – the Brazilian gallery with bases in both São Paulo and Rio de Janeiro – has opened an outpost in Manhattan's Chelsea, at 47 West 28th Street. Nara Roesler's inaugural US space also makes it the first Brazilian gallery to take on the New York art scene on its own turf.

The eponymous gallerist, who founded Galeria Nara Roesler in 1989, says, 'The viewing space allows us to show works by our extensive roster of artists, and expand the reach and legacy of the gallery.' Her son, director Daniel Roesler agrees. 'New York is a hub. The goal is to have a welcoming address to meet international gallery clients and to be closer to trustees, consultants and acquisition committees of museums.'

The first show at the gallery is an exhibition of rarely seen film works by the prolific Brazilian contemporary film and video artist, Cao Guimarães. In practice since the 80s, Guimarães has been collected by all the prestigious names in the art world – from Tate Modern and MoMA, to the Guggenheim, Fondation Cartier and the Colección Jumex.

The show itself is curated by Moacir dos Anjos, who previously conceived a Guimarães mid-career survey show in 2014, at São Paulo's Itaú Cultural. The exhibition will take place in collaboration with Cinema Tropical – an organisation dedicated to distributing Latin American film.

The next show, in May, is an exhibition spanning the 60-year career of Brazil's most important kinechromatic artist and inventor, Abraham Palatnik, concurrent with a presentation of his work at Frieze New York's Spotlight, curated by Clara M Kim.
INFORMATION
For more information, visit Galeria Nara Roesler's website
Photography: Adam Reich. Courtesy Galeria Nara Roesler
ADDRESS
Galeria Nara Roesler
47 W 28th Street
2nd Floor
New York, NY 10001
Daniel Scheffler is a storyteller for The New York Times and others. He has a travel podcast with iHeart Media called Everywhere and a Substack newsletter, Withoutmaps, where he shares all his wild ways. He lives in New York with his husband and their pup.