Fictional reality: Ryan Gander probes the limits and possibilities of the human condition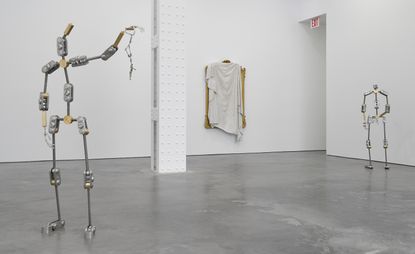 (Image credit: Photography: Jack Herns. Courtesy of Lisson Gallery)
Arriving at Lisson Gallery in Chelsea for the British conceptual artist Ryan Gander's latest exhibition, the first artwork to catch my attention was a pair of animatronic eyes embedded in the wall opposite the entrance. Activated by motion sensors from behind, the witty and ingenious Dominae Illud Opus Populare (2016) registers a range of emotions. In a clever reversal of normal gallery viewing, its watchful eyes surprise by returning the visitor's steadfast gaze, emulating the exhibition's title 'I see straight through you'.

Gander subtly refers to himself as 'Mr Modern Classical Conceptualist' through one work – a master storyteller whose considerable output encompasses an array of mediums spanning design, sculpture, photography, language, and performance. Imbuing objects with subtle nuances, the artist's overarching narratives on the nature of art form the basis of his work.

'I want to see the possibilities as well as the limitations of the human condition,' explains the artist, looking at the life-size animation characters scattered around the main room. 'You'll see that their position and hand gestures imply feelings of loneliness and melancholy. Another holds the leg of a small, broken figuration upside down reminding me of my own infirmity.' Alluding to a long-term physical disability confining the artist to a wheelchair, stately antique French mirrors draped in marble sheets cloak the trauma of self-image and ego.

The show concludes with a walled-off artwork which expands on the artist's Fieldwork installation, displaying 32 new everyday products in Gander's collection. It's accompanied by a catalogue with full-page photographs and provocative essays that discuss the phenomenology of the products presented.
INFORMATION
'I see straight through you' runs until 15 October. For more information, visit the Lisson Gallery website
ADDRESS
504 W 24th St
New York
NY 10011