Fabienne Verdier: the painter reimagining Cézanne country
For a decade, Fabienne Verdier lived in China studying under Huang Yuan, a Sichuanese calligraphy master and landscape painter. Now, back in her native France, the abstract artist is following in the footsteps of another master as three leading institutions in Aix-en-Provence open major exhibitions tracing her journey, from a nomadic artist's workshop to paintings recently created in the landscape immortalised by Cézanne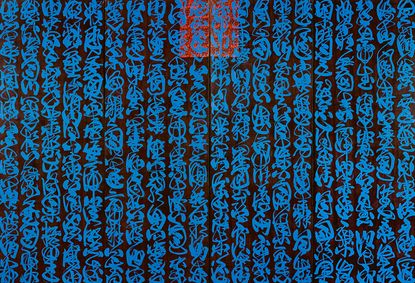 (Image credit: © Adagp, Paris, 2019)
Walking through Aix-en-Provence, it's easy to see why Paul Cézanne painted the landscapes that surround this medieval French city so obsessively. The city's most famous son painted Provence landscapes as if driven by internal demons. In doing so, he revolutionised the ideals of perspective that had held sway since the Renaissance. It was eventually the death of him. In October 1906, Cézanne was caught in a storm while working en plein air. With the painting nearing completion, he carried on working for a further two hours. He collapsed on the way home, was carried to his bed by a passing stranger, and died of pneumonia less than a week later.

From a vantage point in the Saint-Pierre cemetery where he is buried, visible just a few miles east of the city, lies the Sainte-Victoire mountain range. These are Cézanne's mountains: they're lush yet rugged, both fertile and barren. As the day grows old the light can change momentarily as it passes the mountain face, from cruel and hard to ethereal and light. Painting this, giving the mountain depth and shape in a way that seems to alter depending on which angle you look at the canvas, gave birth to Cézanne's now iconic maxim: 'To treat nature by the cylinder, the sphere, the cone'.

Cézanne would occasionally paint with just a palette knife, a technique he had developed during his Dark Period in Paris. The Eblish artist Lawrence Gowing has written that Cézanne's palette knife phase 'was not only the invention of modern expressionism, although it was incidentally that; the idea of art as emotional ejaculation made its first appearance at this moment'.
Mont Sainte-Victoire opened the door to post-impressionism, and, from there, abstract expressionism. It's fitting, then, that one of France's leading contemporary abstract expressionists, and a proud citizen of Aix-en-Provence, is sharing a gallery with Cézanne's pioneering paintings. Yet Fabienne Verdier's rendering of the Sainte-Victoire landscape has pushed forward the artistic language of landscape once again. For it's a language of the globalist age, one rooted in the dedicated study of an artistic culture far from her own.

Verdier was born in Paris in 1962. As a student, she studied Chinese at Paris' Institut National des Langues et Civilisation Orientales. Yet she grew dissatisfied with the narrow prism of exposure the school provided to Chinese art. In 1985, at the age of 22, she journeyed alone to China – 'I was the first French artist to do,' she says over lunch in a courtyard in Aix-en-Provence. She intended to stay for a month, but remained in China for more than ten years, up to and beyond the Tiananmen Square massacre.

Verdier initially studied at the Sichuan Fine Arts Institute in Chongqing, before becoming an apprentice to Huang Yuan, a Sichuanese master artist. Huang Yuan, she says, ignored her for much of her apprenticeship. Each evening, she would lay her efforts outside the door of his home. He would never acknowledge her, nor provide any feedback. But Verdier was told by a fellow student that, after dark, he would take her paintings from the doorstep and study them at night.
After six months, he brought her into the fold, teaching her the ancient and classical art of calligraphy. Each character in the Chinese alphabet requires a single stroke – what she calls a 'trait' – which translates in French as 'a line drawn'. Mastering a single line, imbuing it with an expressive and multivalent power, has become a life's obsession for Verdier.

Huang Yuan impressed upon her that Chinese calligraphy is a form of abstraction founded in nature. She learnt, therefore, to make time for a 'daily meditation within the landscape'. Today, this link with nature remains fundamental: 'If I paint a tree, I become the tree,' Verdier says. 'I become the sea with its tides.'

In 1993, Verdier returned to France. Living in China, far from home, had taken its toll. She had developed an illness, meaning she weighed just 30kg when she returned. 'All my life I have been on a line above the void, between two worlds,' Verdier writes in the exhibition publication of her work. 'It is very difficult, the to and fro. You are obliged to gather your forces, because every time you cross from one side to the other, you question everything you thought you believed – and you find a self you did not know.'
Once back in France, in a hamlet in the Val-d'Oise, Verdier began to develop her unique practice, combining the transformation of Chinese brushes with Western acrylic pigments and varnishes. She learnt to lay the paper on the ground, using the brush vertically with ink and brush subject to gravity. Over time, she developed vast brushes composed of dozens of horsetails and suspended from the ceiling of her studio.

When laden with paint, the brush is so heavy that Verdier had to attach the handlebars from an old bicycle in order to retain control of the passage of the 'trait' across the canvas, in what is, on surface, a style of painting redolent of Jackson Pollock and 'action' painting, but, infact, is a process of monumentalism, a way of making large the classical processes she learnt in Sichuan.
Verdier's retrospective, which takes place across multiple gallery spaces – Musée Granet, Musée du Pavillon de Vendôme and the Cité du Livre, Galerie Zola – shows works from her early experiments in calligraphy right through to her most recent engagements as a resident of the surrounding landscapes, the Provence mountains, skies and rivers that so fascinated Cézanne. Captured in a single trait, these abstract works evoke their surroundings not through literal representation but through the patterns of energy they express.

'As you come close,' writes the critic Emma Crichton-Miller of Verdier's new exhibition, 'the bounding, rhythmic strokes of paint themselves become landscapes, three-dimensional terrains marked with uplands and lowlands, thickenings and vanishings, marked by fissures and erosions.' One imagines the old master of Aix-En-Provence, buried not far away, would approve.
INFORMATION
'Sur les terres de Cézanne', 21 June – 13 October, Musée Granet. 'L'Atelier Nomade', 21 June – 13 October, Musée du Pavillon de Vendôme. Sound Traces, 21 June – 14 September, Cité du Livre. museegranet-aixenprovence.fr (opens in new tab); aixenprovence.fr (opens in new tab); citedulivre-aix.com (opens in new tab)