'Behind Closed Doors': Esther Stewart's strict forms at Sarah Cottier Gallery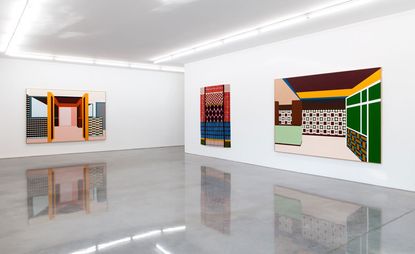 (Image credit: Sarah Cottier Gallery)
Having taken the fashion world by storm, Australian artist Esther Stewart is showing her (art) stripes with 'Behind Closed Doors', her first solo exhibition at Sydney's Sarah Cottier Gallery.

Showcasing her latest geometric works, Stewart's strict forms and idiosyncratic colour combinations are made new again, having cemented a fashion following by way of Valentino creative directors Maria Grazia Chiuri and Pierpaolo Piccioli's A/W 2015 menswear collection, which they framed with Stewart's optical precision. On view until 8 May, Stewart's latest creations blend an unusual mix of blocked bottle green, egg yolk yellow, maroon and duck egg blue with the precise lines of Euclidean geometry, resulting in abstract patterns that simultaneously reference Islamic mosaics, Russian suprematism and constructivism, and the pop of the Memphis Group in one bright, fell swoop.

'The title of this show is taken from a Charlie Rich song [which] I first heard sung by Loretta Lynn and then later by Dolly Parton,' explains Stewart. 'The name stayed with me.'

Despite not liking the song's original message, there are two things specifically that interest her about 'Behind Closed Doors' when sung by Lynn and Parton. 'First, they switch the gender of the narrator, [which] changes the scope for the song's interpretation. Secondly, I'm intrigued by its possible interpretations and references: public vs private; domestic spaces and decoration; secrets and desires; personal or true identities; and cultural expectation, gendered spaces, thresholds, façades and the unknown.'

By using the visual languages of hard-edge abstraction and minimalism and drawing on the works of male artists like Donald Judd, Frank Stella, Ellsworth Kelly and Robert Mangold, Stewart seeks to subvert, 'to twist and change the gender, context and possible readings of the languages that I am engaging with', she explains. The provocative titles of the paintings further the narrative as well; The Glass Ceiling Your Husband Installed Is Beautiful and I Was Hoping For More are particular favourites. It is this enduring fascination with domestic space that is most salient about Stewart's work though. That and the pleasing symmetry of it all.
INFORMATION
'Behind Closed Doors' is on view until 8 May. For more information, visit the Sarah Cottier Gallery website (opens in new tab)
Photography courtesy of Sarah Cottier Gallery
ADDRESS
Sarah Cottier Gallery
23 Roylston Street
Paddington, NSW 2021