Elizabeth Price debuts video work in first London show since her Turner Prize win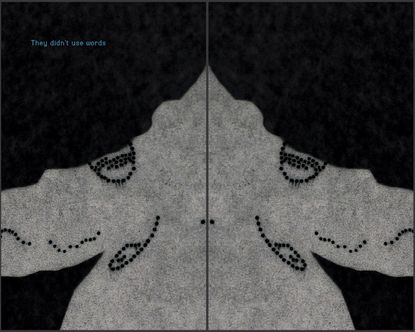 (Image credit: Elizabeth Price)
As a young man exited the small, curtained nook where Turner Prize winner Elizabeth Price was exhibiting her latest two-channel HD video, txtʃərz, he remarked at how refreshing it was to catch an esteemed artist in the backwoods of Waterloo Station. The artist, he said, was bringing her message to the masses – a rare delight.

The venue in question was the Morley Gallery, part of the arts centre at the eponymous college of adult learning in London's Southbank. And the message, delivered in a dispassionate electronic voice evocative of Stephen Hawking, was of a higher education in turmoil. Price, a former teacher born to two teachers, envisions a field that is increasingly corrupted by money, distrust and corporate greed.

txtʃərz is, at its most basic, a phonetic play on words. Price's simple graphics superimpose her transcribed script atop backlit stencils of lace fabrics silhouetted like ecclesiastical robes – as perfectly symmetrical as Rorschach tests. While the choppy voice dictates and its missive unfurls across the screen, a narrative unfolds.
A group of disaffected professionals in some futuresque world are sitting a series of silent protests in which they communicate nothing. Any speech comes out in random glottal utterances, which, when strung together, roughly resemble the word 'teachers' – though in reality we learn nothing definitive about their demands.

When the media and academia take notice, the effort to define their struggle and its origin creates divisions among the protesters. It's an absurd premise rendered more so by the robotic narrator: who's programmed it? Is it impartial? Who can, or should, we trust?

Price's layering of voices, fabrics, suspenseful music and even time (past and future mix seamlessly with the present) create the requisite texture in this quick, seven-minute hit. You'll probably want to watch it twice, but ultimately, it's a lecture on the absence of lecturing that demands your attention.
INFORMATION
txtʃərz is on view 5 – 14 July. For more information, visit the Morley Gallery website (opens in new tab)
ADDRESS
Morley Gallery
61 Westminster Bridge Road
London SE1 7HT
VIEW GOOGLE MAPS (opens in new tab)