Collector Eileen Harris Norton on art as a portal for change
Collector and philanthropist Eileen Harris Norton has long been an advocate for underrepresented artists. Profiled in her Santa Monica home, Norton discusses art as a social investment, and providing opportunities for Los Angeles' foster youth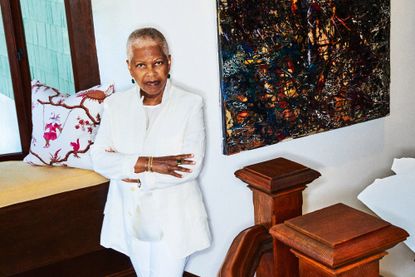 (Image credit: Sam Frost)
Wallpaper* Newsletter
Receive our daily digest of inspiration, escapism and design stories from around the world direct to your inbox
Thank you for signing up to Wallpaper. You will receive a verification email shortly.
There was a problem. Please refresh the page and try again.
There are words frequently found in the art collecting vocabulary: primary, secondary, provenance, blue-chip, flip. When we speak via Zoom, Eileen Harris Norton doesn't use any of these. Instead, she favours words like passion, education and opportunity. For her, the value of art lies in its ability to promote tangible change; art is both a social and economic investment.

In recent years, issues of racial injustice and the lack of visibility given to artists of colour have come to the fore. But, as many museums frantically retrofit their collections to include a wider range of perspectives, some voices have been championing underrepresented creatives for decades.

Norton's art journey began in the 1970s when she and her mother visited a Black History Month exhibition at LA's Museum of African American Art. 'My mom saw the ad in the paper, and we said, oh, let's go to this because the artist was a Black woman. We didn't know any artists, and we certainly didn't know any Black women artists,' Norton explains from her home in Santa Monica. The artist was Ruth Waddy, an LA-based printmaker, editor and activist. But it was only when Norton included her work in a 2020 show that the full weight of Waddy's influence on 20th-century LA art came to light. 'Several scholars spoke about how Ruth Waddy was apparently like the godmother of many Black LA-based artists at the time. I had no idea that she was this wonderful, powerful woman,' says Norton. 'I bought Ruth Waddy long before I could call myself a collector or even knew of the art world.'
Top: Yinka Shonibare, Pedagogy Boy/Boy, 2003. Wood, dutch wax printed cotton, metal, fiberglass. Above: Warm Broad Glow, 2005, a neon and paint work by New York artist Glenn Ligon, photographed with a fisheye lens. Courtesy the Eileen Harris Norton Collection
In many ways, Norton – who was born in the LA neighbourhood of Watts and was once an elementary school teacher – might be described as an art godmother of sorts, but she never set out to become a collector. In the 1980s, she and her then-husband, Peter Norton (of Norton Antivirus), were working to get Peter's company off the ground while living in an artist studio hotspot in Venice, California. 'We would just walk around and into people's studios and it was something we did when we didn't have any money,' she recalls. 'But then we made some money.'

They began collecting work focused on African American, African diaspora and women artists, often with a strong LA thread. Artists such as Glenn Ligon, Lorna Simpson and Carrie Mae Weems, who are household names today, but were not when they were first hung. 'When we started collecting, they were nobodies, they were these young artists, but we decided, these young Black artists are worthy,' she says. 'I collected Black artists who were undervalued and not being shown in the late 1980s and early 1990s, while other collectors were not.'
Top: one of a set of 11 plates from the Commemorating series, 1992, by Carrie Mae Weems, the first African American woman to have a retrospective at the Guggenheim Museum. Above: Frank Gehry, Large and Small Hanging Fish, 2014. Metal wire, ColorCore formica and silicone. Courtesy the Eileen Harris Norton Collection
Her 1906 Craftsman home was designed by architects Elmer Grey and Myron Hunt. Its walls are liberally adorned with works by the likes of Kerry James Marshall and Frank Gehry (the latter, whom Norton has known for many years, lives a few doors down). One of the most significant artists in her collection – in more ways than one – is LA native Mark Bradford (W*267). Norton and Bradford met at a studio visit suggested by the curator Thelma Golden. 'The studio visit is such a tradition in the art world, but I didn't really know what I was doing,' says Bradford, who, at that point, was still working as a hairdresser and had never sold a painting. 'I was making paintings using endpapers, so, naturally, we talked about hair. I probably even offered her a treatment!'

Indeed, Bradford invited Norton to his mother's beauty salon, which later became his studio. 'He talked about my hair and he didn't like the way it was styled. So I said, "Well, can you do better?" He said, "Yeah, I can do better",' recalls Norton. 'We sort of hit it off. I bought work. I mean, he was practically throwing work at me.'

'As she was getting ready to leave,' explains Bradford, 'she said she liked two of the paintings I had hanging up and asked how much they were. I had no idea! Without thinking, I said, "I don't know. How much do you want to pay?" Eileen didn't miss a beat. She became my first collector that day, and we've been friends ever since.'
Their friendship entered a new chapter with Art + Practice (A+P), which Norton founded alongside Bradford and his partner, the social activist Allan DiCastro. 'The three of us have similar experiences of growing up in underprivileged neighbourhoods where opportunities for access to quality education made a big difference in our lives,' recalls Bradford. 'Over time, our commitment to this vision has strengthened. Our evolution is always in the service of this objective.'

A+P's vision is social engagement meets contemporary art. Occupying three spaces in Leimert Park, South LA, it collaborates with globally renowned institutions and provides Angelenos with free access to museum-curated contemporary art with a focus on artists of colour. Their inaugural exhibition was by LA-based conceptual artist Charles Gaines, with subsequent shows by artists including Ruben Ochoa and Senga Nengudi.

But A+P is far more than a platform for art. Its mission is to provide opportunities (including paid internships, scholarships, and other vital resources) to young locals aged 18 – 24 who are transitioning from the foster care system to independent living. 'It's one thing to have an art space, which is nice, but how can you really support the youth with their educational, emotional, housing and schooling needs?' asks Norton.

The answer came in 2016, when A+P provided space (within Bradford and his mother's old beauty salon) for First Place, a non-profit social service provider founded in Oakland in 1998 and whose activities include pairing youth with social workers and securing educational and career pathways.
Double Portrait, 2013, a silkscreen by the American artist Lorna Simpson (pictured top); and another view of British-Nigerian artist Yinka Shonibare's sculpture, Pedagogy Boy/Boy, 2003. Courtesy the Eileen Harris Norton Collection
In 2020, A+P teamed up with the Hammer Museum to open 'Collective Constellation: Selections from The Eileen Harris Norton Collection'. The exhibition brought together work by female artists of multiple generations and ethnicities, including Mona Hatoum, Shirin Neshat, Lorna Simpson and Ruth Waddy.

Its current show, 'Blondell Cummings: Dance as Moving Pictures' (until 19 February 2022), marks the first museum exhibition dedicated to the late African American choreographer and video artist. It is part of A+P's collaboration with the Getty Research Institute's African American Art History Initiative. In 2022, A+P will begin a five-year collaboration with the California African American Museum with an exhibition by mixed media collage artist Deborah Roberts.

It would be restrictive to call Eileen Harris Norton an art collector. She is more of a social initiator, using art as a portal for change. Through A+P, as well as her own foundation, she articulates a vision that is both retrospective and forward-looking: to offer visibility to and celebrate artists who long went uncelebrated, and offer the next generation the tools, confidence and exposure to make their mark on the world
Clockwise from top: Ramsess, Dr. King/Malcolm X, 2018, cotton; Melvino Garretti, Ceramic jar with lid, 2012. Low fire ceramic; Tanya Aguiñiga, Felt Chairs, 2012, metal folding chair, felt; Glenn Ligon, Warm Broad Glow, 2005. Neon, paint. Courtesy of the Eileen Harris Norton Collection
Clockwise from left: Fred Wilson, Shatter, 2003. 5 Murano glass candlesticks, water, food coloring. Various; Kara Walker, Untitled, 1995. Ink, pencil and gouache on paper; Fred Eversley, Untitled (parabolic lens), 1969. 2-color, 2-layer cast polyester. Courtesy the Eileen Harris Norton Collection
INFORMATION
Receive our daily digest of inspiration, escapism and design stories from around the world direct to your inbox
Harriet Lloyd-Smith is the Arts Editor of Wallpaper*, responsible for the art pages across digital and print, including profiles, exhibition reviews, and contemporary art collaborations. She started at Wallpaper* in 2017 and has written for leading contemporary art publications, auction houses and arts charities, and lectured on review writing and art journalism. When she's not writing about art, she's making her own.
With contributions from