Double dose: Mat Collishaw stages two new Midlands shows
Artist Mat Collishaw is currently staging his largest UK show to date at the New Art Gallery Walsall and a specially commissioned work at the remarkable new Library of Birmingham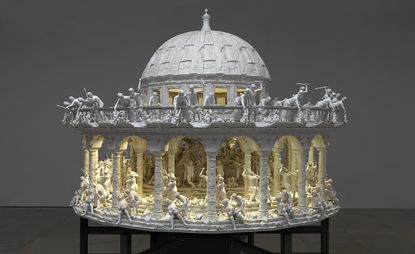 (Image credit: Todd White,)
The West Midlands is being treated to a double-dose of Mat Collishaw (opens in new tab) with the artist's largest UK show to date at the New Art Gallery Walsall (opens in new tab) and a specially commissioned work at the remarkable new Library of Birmingham (opens in new tab).

The centrepiece of the Walsall show is All Things Fall, a digitally printed 3D-zeotropic take on the 'Massacre of the Innocents', King Herod's infanticidal purge designed to deal with a potential messiah problem at the earliest possible stage. Collishaw's re-imagining of the massacre remakes the proto-cinematic technology as a large, classically inspired carousel-like sculpture that spins into terrible action. And if the effect is carnivalesque, it only serves to amplify the shock. The story still resonates, of course, because there's every possibility that some untrammelled tyrant or extra-moral militia will do much the same thing any day now.

The photographic series Last Meal on Death Row, Texas, 2011, recreates, as the title suggests, the last meal requests of death row prisoners in Flemish still life style. In the Single Nights series meanwhile, single mothers become blessed, candle-lit Madonnas; while in the on-going Insecticide series, crushed bugs attain an abstract beauty.

Collishaw's In Camera installation at the Library of Birmingham is created around a series of 12 unpeopled crime scene negatives made for Birmingham City Police Force during the 1930s and 1940s and pulled from the library's extensive photographic archive. Collishaw places the negatives in translucent vitrines, suddenly lit by flashbulbs, inviting voyeuristic speculation and asking us to question these very responses.
INFORMATION
'Mat Collishaw' is on view at the New Art Gallery Walsall (opens in new tab) until 10 January, 2016
'In Camera' is on view at the Library of Birmingham (opens in new tab) until the same date