Divine intervention: Markus Brunetti's imposing architectural icons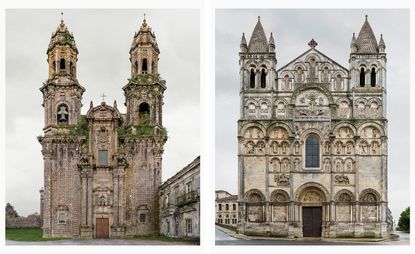 (Image credit: Copyright Markus Brunetti, courtesy Yossi Milo Gallery)
Images of architectural icons are common enough; after all, the pioneering British photographer William Henry Fox Talbot snapped Westminster Abbey way back in the 19th century. But now the Yossi Milo Gallery (opens in new tab) in Chelsea is spotlighting the German photographer Markus (opens in new tab)Brunetti (opens in new tab)'s highly individualistic take on that genre in 'Facades' – the photographer's first exhibition in the United States – capturing historic cathedrals, cloisters and monasteries throughout Europe. The show deftly demonstrates his dazzling creativity.

To create a single work, Brunetti first snaps upwards of 100 images, focusing on frequently overlooked stone statutes, before airbrushing out extraneous elements like cars and street lights to create a riveting composite image. The detail is starling, with viewers getting to gaze up close at the mosaics tucked under the roofline of the Duomo di Santa Maria Assunta in Orvieto. Elsewhere, lichen is clearly revealed.

Brunetti's vast image archive factors architectural styles ranging from the early Romanesque and Gothic, through Renaissance and Baroque to the contemporary. 'He captures these immense churches – one as tall as 530 ft,' says Milo, who has included an image measuring a towering 10 ft in height in the exhibition. 'This size will immerse the viewer and present the facade in its purest form,' he adds. In some instances, Brunetti also drenches images in a surreal palette, skewing these monolithic structures further.

Consider this show the ultimate walk through the Reims Cathedral and on to Chartres. For those on the other side of the pond, Brunetti's iconic images can also be seen in Axel Vervoordt's 'Proportio' exhibition at Palazzo Fortuny in Venice until 22 November.
INFORMATION
Copyright Markus Brunetti, courtesy Yossi Milo Gallery, New York. 'Markus Brunetti: Facades' is on show at Yossi Milo Gallery until 17 October
ADDRESS
Yossi Milo Gallery (opens in new tab)
245 Tenth Avenue
New York, NY 10001