Distorted portraits: Georg Baselitz's ghostly oil works at White Cube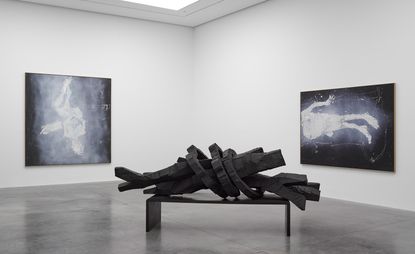 (Image credit: The artist and White Cube)
There's a hint of the megalomaniac in Georg Baselitz's art. In recent years his output has accelerated, as if he is battling to keep up with the frantic energy he projects in his work. In his latest show, 'Wir fahren aus (We're off)', the scale and number of his paintings, drawings and sculptures can barely be contained by the cavernous White Cube in Bermondsey.

Baselitz focuses on his subjects with an intensity that borders on the obsessive. With the exception of two sculptures, everything on show in 'Wir fahren aus' is based on a handful of figurative subjects.

In the monumental oil paintings – 16 of them altogether – Baselitz has returned to an older portrait of himself and his wife Elke. Their bodies are rendered as stark, contorted figures in white or pink, floating in thin mists of paint against dark backgrounds. At their best, these works live up to their enormous scales with a clarity of composition and subtlety of texture.

The inspiration for these paintings came from Otto Dix, the influential portraitist of inter-war Germany; in fact, throughout 'Wir fahren aus' there are hints of an expressive, macabre German and Austrian tradition that also includes Egon Schiele and George Grosz. This is especially true of the works in ink, which combine an aggressive, incisive line with vaporous blotches of yellow and purple watercolour.

Baselitz is almost 80, and one of this exhibition's main themes is aging. It appears that, like many artists before him, this preoccupation will only make him more productive.
INFORMATION
'Wir fahren aus (We're off)' is on view until 3 July. For more information, visit the White Cube's website (opens in new tab)
Photography courtesy the artist and White Cube
ADDRESS
White Cube
144–152 Bermondsey Street
London, SE1 3TQ
VIEW GOOGLE MAPS (opens in new tab)